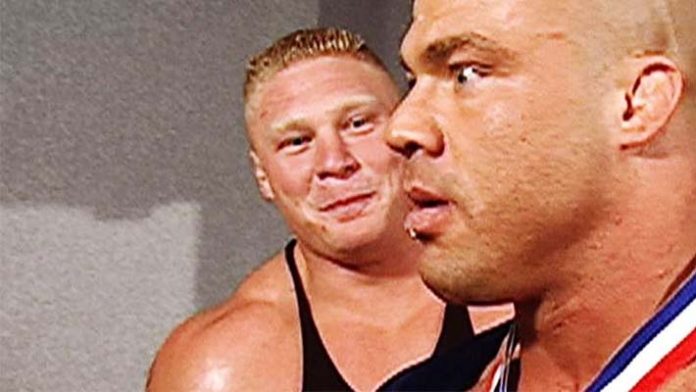 Who is the most powerful, explosive wrestler of all-time?
For Kurt Angle, the answer is clear-cut.
During the latest installment of his official podcast, The Kurt Angle Show, the WWE and IMPACT Wrestling Hall of Fame legend spoke about the explosive power of Brock Lesnar.
Featured below are some of the highlights from the show where he touches on this topic with his thoughts.
On Brock Lesnar's strength: "Brock's the most powerful, explosive person I've ever been in the ring with. Oh, it's no doubt Amateur or pro wrestling or even football, bro, is the strongest, most powerful, explosive person I've ever been in the ring with. And when you're in there with him, you better be ready because you're gonna get thrown around,
On Brock Lesnar's beat down of Zach Gowen: "It was a really serious ass-kicking. Yeah. I honestly believe that it went a lot further than just having Brock beat him up. I think that it was sending a message to Zach. Yeah. And that message was heard loud and clear. So this helped dramatically him doing this to Zach Because, I mean, this kid was a really good wrestler. He only had one leg. He was unbelievable with the fans. Yeah. And, when Brock did that to him, that definitely gave him heat."
Check out the complete episode of the show via the YouTube player embedded below. H/T to WrestlingHeadlines.com for transcribing the above quotes.