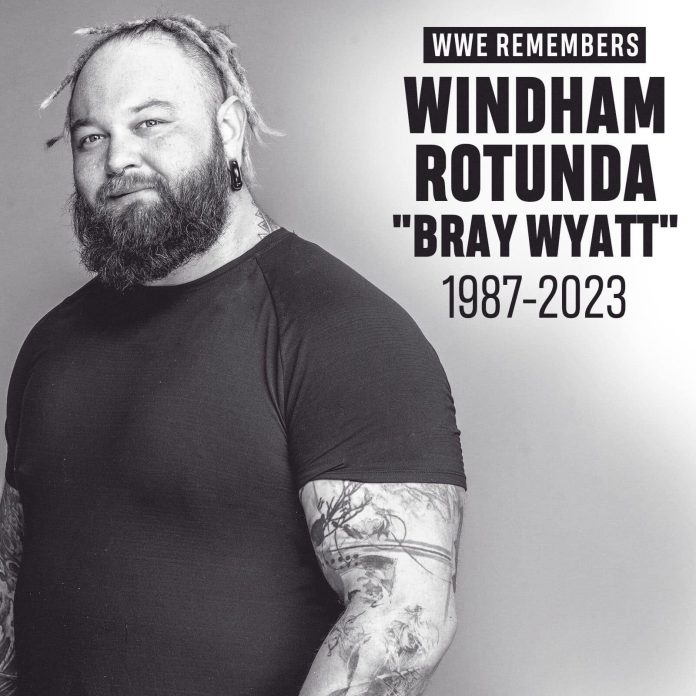 I'm absolutely stunned at the news that broke late yesterday afternoon that Windham Rotunda, known to wrestling fans around the globe as Bray Wyatt, passed away suddenly at the age of just 36. Sean Ross Sapp of Fightful Select reported that he was given permission to reveal that the grappler had a bout with COVID earlier this year and it worsened an existing heart issue. Sapp added that a heart attack led to Rotunda's death.
Along with the rest of the wrestling world, I'm still reeling from the death of the beloved Terry Funk, who passed just two days earlier at the age of 79. The shock from Terry's passing was almost ironic, because despite his advanced age, health issues from more than five decades in the ring, and news in recent years that he moved into an assisted living facility, it's still surprising that Terry Funk was moral? Barbed wire, explosions, and flying steel chairs couldn't stop Funk so even at 79, it wasn't unrealistic to expect Terry to pose with his trademark left hand ready to throw another punch at 104. Thankfully, Terry lived a full life and had an impact on generations. Sadly, Windham Rotunda's passing is at the other end of the spectrum, it's not expressing grief through celebration as many did with Terry, but grief through absolute sadness. Windham didn't get a chance to live a full life, but left in the prime of it. He didn't get a chance to fully leave his footprint on the world of sports entertainment, and as influencial as it would've been, that mark on pro wrestling seems moot compared to what his absence will mean to his family.
Even as I type this, the whole thing just seems surreal. He was rumored to be back on WWE television soon and now he's gone?
Less than two weeks ago, I penned an article about the status of Bray Wyatt, the performer that became a top merchandise seller despite the fact that he wasn't always booked to shined, and detailed how the scripting of his characters didn't do him any favors. I concluded that article with the notion that given the money he made and the recent health scare, prehaps retirement was the best option for him.
The fact that Bray Wyatt didn't get the push or the scripting he deserves seems rather hollow after the news that the real-life Windham Rotunda passed away.
I praised his talent and his ability as a performer, citing when he should've had those signature wins, and more specifically, when the office shouldn't have booked him into a corner. The start and then stop of a push of any specific persona didn't allow him to truly make the most of his potential. But that seems insignificance without Windham Rotunda, the real-life father of four to be around for his family.
That's not to minimize or discard what he did in the ring, but rather to point out the scope of this tragic news.
In a business where egos can run wild or grudges can be held, social media was flooded with touching tributes by those that knew the man behind the mask of "The Fiend" and even prior to this, I'm not sure any of his peers had anything negative to say about him, which is rare for the sports entertainment business.
In the aftermath of his death, a message that Rotunda shared online several months ago about how a multitude of things can be possible within pro wrestling has resurfaced online.The portion that stood out to me was that "wrestling is hope."
I'm not a religious person, I don't believe that everything happens for a reason or that there's some grand plans. Obviously, everyone is entitled to their own beliefs, but instead I believe that there's a random order of what happens and then we can do the best possible to try to make sense of the pieces of the puzzle in life. In this case, prehaps the death of Windham Rotunda can be a reminder to us all that even if we know to appreciate the ones we care about, maybe take just that extra moment to let someone know how important they are to you. Clearly, the performer Bray Wyatt had a major impact on millions of fans that he entertained around the globe, and his unique presentation gave them hope, while Windham Rotunda made an impression on his peers that knew him behind the scenes.

"Wrestling is hope" is a term with just three words, but it makes such a powerful statement. Too often, as it usually the case with any form of live entertainment, the focus gets put on the negative of professional wrestling. By nature, it's a tough way to make a living and there are casualties from it. Vice's Dark Side of The Ring produced a few dozen episodes on such topics. But, the other side of the coin is that the tenacity, entertainment, and presentation of the narrative of sports entertainment can be an inspiration. The baby face refused to quit when the odds were stacked against him, the thrill of the three count can provide a distraction from the harsh reality of real life, and these real-life super heroes can actually meet the fans to express their gratitude for the support.

There was a video posted online of when Bray went back outside of an arena to meet a youngster that was waiting for him. Not only to Wyatt come up to the railing to shake his hand, Bray disconnected the barrier so the little dude could get a proper picture next to him. Superman can't fly off the page, Batman can't swing through the screen, but pro wrestlers can interact with their audience. Bray Wyatt went out of his way to make a young fan's day, and that says a lot about the character of Windham Rotunda.

The WWE Shop website has posted that the net proceeds from all Bray Wyatt merchandise sold will go directly to his family, and as of this writing, there are only a few items left in stock so it goes without saying that the fans want to support his memory.
Bray Wyatt passed away, but his legacy won't be forgotten. Windham said that "wrestling is hope" and his career definitely inspired it.
What do you think? Share your thoughts, opinions, feedback, and anything else that was raised on Twitter @PWMania and Facebook.com/PWMania.
Until next week
-Jim LaMotta
E mail drwrestlingallpro@yahoo.com | You can follow me on Instagram, Facebook, & Threads @jimlamotta89