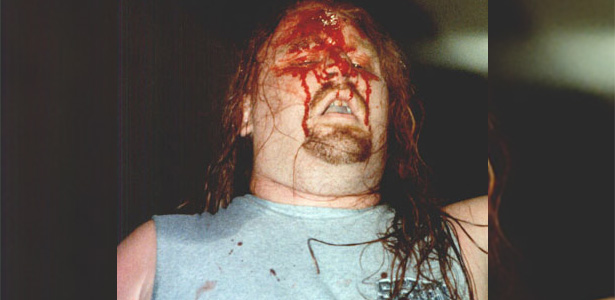 – Longtime Southern California wrestler Cincinnati Red died on Friday at the age of 40 from a reported heart attack. Local promoter Jesse Hernandez posted the following details on Facebook:
"Today has to be one of the saddest days of my life. This morning around 8:45 AM My wife and I showed up at Bob Bradley Sr's funeral and it was early enough that we left for a few minutes and as we came back I saw Cincinnati Red along with Adam Croom and Wayne Hancock standing outside talking me and my wife walked to them and hugged them all since we hadn't seen each other for sometime. I walked up to Red and embraced him and told him I have missed you Red he hugged back and said he too had missed me. Later on he apologized for some stupid shit in our past. I told him it was all behind us. After the service Red and I along with Bobby Bradley Jr Adam were all part of carrying the coffin. We even joked about once when we carried the old WWF steel cage and Red remembered thinking that one or two of us wasn't carrying the cage as it seemed heavy. I told him that I felt like someone wasn't lifting Bob's coffin as it seemed heavy. We both laughed about it. I told Red to keep a better diet for his diabetes and to take care of himself. From there we all went to the Bradley's house as they live in Pinon Hills. Adam drove Red over to the house and shortly after we heard that Red wasn't
Feeling well so Adam drove him to a hospital. After a while Adam returned and said he got scared and called 911 and an ambulance took RIed to the hospital as they claimed he was having a heart attack.I called DK Murphy to let Red'sMother know that Red was in the hospital as I felt she needed to know as soon as possible. After a while I had an uneasy feeling about Red being in the hospital and no one there for him. My wife and I headed to Desert Valley Hospital in Victorville to check on Red. They told us he was undergoing surgery and wouldn't be out for another hour or so. We left and I called Adam to let him know about Red being in surgery and for him to keep me updated. Around 7:00 pm or so I received a call from Mike Aguirre that Red had passed as I was talking to Mike Adam also called to give me the unbelievable news as well. Adam explained that his arteries were clogged up and they claimed that Red already had had heart attacks and after surgery he had a magor attack and they couldn't revive him. This is a day I won't soon forget. RIP Red you will always live in our hearts. God works in mysterious ways. We would have had an event at City of Industry today which was canceled out because of a double booking at the VFW meaning I more then likely would have missed out on the funeral and would not have been there to make peace with Red. Another crazy thing that happened was what the Pastor at Bob's service said and I quote 'Bob is in a happy place with Jesus an is having so much fun that he would wish his friends to join him there'. Quite a coincidence? Either way may Bob Bradley Sr. and Red RIP"
Several notable stars including Samoa Joe and Christopher Daniels shared their thoughts:
Just heard of Cincinnati Red's passing. One of the first guys I worked with in CA. RIP Red, tomorrow we walk that aisle for you!

— Christopher Daniels (@facdaniels) March 21, 2015
Beyond destroyed right now.. RIP Big Hardcore Cincinnati Red. My trainer my mentor, my friend.

— Samoa Joe (@SamoaJoe) March 21, 2015
On behalf of everyone at PWMania.com, we would like to offer our sincere condolences to the family and friends of Cincinnati Red.