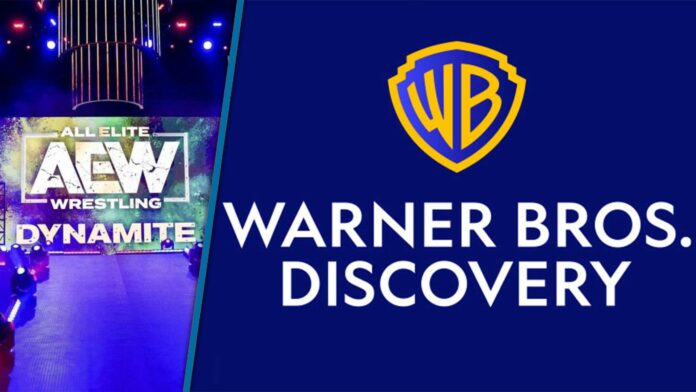 Beginning October 5, AEW's TV partner, Warner Bros. Discovery, announced that it will begin streaming live sports on its Max service, paving the way for live AEW PPV events to be shown at a later date.
The following was issued:
Live Bleacher Report Sports Tier to Launch on Max in U.S. on Thursday, October 5
MAX
WBD Sports' Premium Live Sports – MLB, NHL, NBA, NCAA Men's March Madness, U.S. Soccer and More – to Simulcast Live on Max via Bleacher Report Sports Add-On and Continue to Air on TNT, TBS and TruTV
B/R Sports Add-On Available to All Max Subscribers for Promotional Period Through Feb 29 and $9.99 Per Month thereafter
Unlocking More Than 300 Premium Live Games Each Year, Plus Bleacher Report Live Video Content & Extensive VOD Library
First B/R Sports Add-On Event to be the MLB National League Division Series, Oct. 7
Today, Max and Warner Bros. Discovery Sports announced a Bleacher Report (B/R) Sports Add-On tier coming to Max starting Thursday, Oct. 5. The Bleacher Report Sports Add-On package will deliver a full slate of premium live sports, including MLB, NHL, NBA, NCAA Men's March Madness, and U.S. Soccer events, The Match, Emmy Award-winning studio shows such as Inside the NBA, live video content from B/R covering a wide array of sports, select live international sports events such as 24 Hours of Le Mans, and extensive VOD content.
This will mark the first time that fans will have access on streaming platforms, in addition to linear, to WBD's portfolio of premium live sports content, including more than 300 live games each year.
The B/R Sports Add-On will premiere on Max Oct. 5, in time for the MLB Postseason – beginning with the National League Division Series on Oct. 7 — the start of the NHL regular season and NBA Opening Night. Following a promotional period through February 29th, during which the B/R Sports Add-On will be available to U.S. subscribers for no additional charge, the offering will be made available in the U.S. as an add-on to all Max entertainment packages — Max With Ads, Max Ad-Free and Max Ultimate Ad-Free — for $9.99 per month.
"We're thrilled to offer WBD's incredible portfolio of premium U.S. live sports – featuring simulcasts of our must-see MLB, NHL, NBA, NCAA and U.S. Soccer events, among others – as part of B/R Sports Add-On's wide assortment of compelling multi-sport content on Max," said JB Perrette, CEO and President, Global Streaming and Games. "The greatest collection of Entertainment, News and now Sports all in one place…this makes Max the most complete streaming service for consumers and reaffirms why Max is truly The One To Watch."
"We want to be everywhere sports fans are and our unparalleled offering of leading sports, combined with the power of the Bleacher Report brand and content, including the unique way B/R engages with young sports fans, all delivered through the new Max platform will enable us to broaden our audience and delight new fans," said Luis Silberwasser, Chairman and CEO, Warner Bros. Discovery Sports. "We are uniquely positioned to offer viewers the best selection of premium sports and exciting events and fan-focused additional programming, all within a fantastic multi-sport product that will meet the evolving consumption needs of our viewers – both casual and hardcore sports fans."
WBD Sports is home to one of the most coveted portfolios of live sports content, including MLB regular season and MLB Postseason games (highlighted by the National League Division Series and Championship Series in 2023), the NHL regular season, Winter Classic and Stanley Cup Playoffs, NBA Opening Night and regular season action, the inaugural NBA In-Season Tournament, NBA All-Star and expansive NBA Playoffs coverage (including the exclusive presentation of the NBA Western Conference Finals in 2024), March Madness — the NCAA Division I Men's Basketball Championship (including The Final Four in 2024) , U.S. Soccer Women's and Men's National Team games, The Match, and much more.
All live games airing on a Warner Bros. Discovery linear network (such as TNT, TBS and truTV) will be available on Max through the B/R Sports Add-On. In addition to live game coverage, the B/R Sports Add-on will offer live pre- and post-game programming and extensive VOD content including sports documentaries (from the HBO Sports and WBD Sports catalog), Bleacher Report highlights and events, special features and extended series.
Additionally, Bleacher Report's full arsenal of live video, including its creative, originally produced coverage of the NFL Draft, popular vodcasts featuring Mookie Betts, Von Miller, Micah Parsons and Travis Hunter, and full slate of Creator League competitions, among others, will be available on Max through the B/R Sports Add-On.
Timed to the Max launch is a highly anticipated lineup of premium live sports, extending through the Fall, Winter and Spring, including:
2023 MLB Postseason coverage, beginning Oct. 7, with WBD Sports' exclusive presentation of the National League Division Series and the National League Championship Series
More than 60 live NHL regular season games including an Opening Week doubleheader (Wednesday, Oct. 11) with the Chicago Blackhawks visiting the Boston Bruins and the Los Angeles Kings hosting the Colorado Avalanche
Live coverage of NBA Opening Night on Tuesday, Oct. 24, featuring the NBA Champion Denver Nuggets hosting the Los Angeles Lakers and the Phoenix Suns visiting the Golden State Warriors, part of a schedule of 65 live NBA regular season games during the 2023-24 season
The inaugural 2023 NBA In-Season Tournament beginning with doubleheader action on Tuesday, Nov. 14, the first of three consecutive weeks of Group Play competition
Coverage of the 2024 Discover NHL Winter Classic, Jan. 1, from T-Mobile Park in Seattle as the Kraken host the Stanley Cup Vegas Golden Knights
The presentation of 2024 NBA All-Star Saturday Night and the NBA All-Star Game, part of an event-filled All-Star weekend, Feb. 16-18
Every 2024 NCAA Division I Men's Basketball Championship game airing on TBS, TNT and truTV, including the Men's Final Four and National Championship in March/April 2024
2024 MLB regular season coverage beginning in early April 2024, featuring a weekly Tuesday Night game throughout the season
The 2024 Stanley Cup Playoffs start in April, including coverage of one of the Conference Finals
The 2024 NBA Playoffs arrive in April, including the 2024 NBA Western Conference Finals
English-language live coverage of U.S. Men's National Soccer Team and U.S. Women's National Soccer Team matches, including the 2024 SheBelieves Cup
Upcoming installments of The Match, a premier live golf event (Dates TBA)