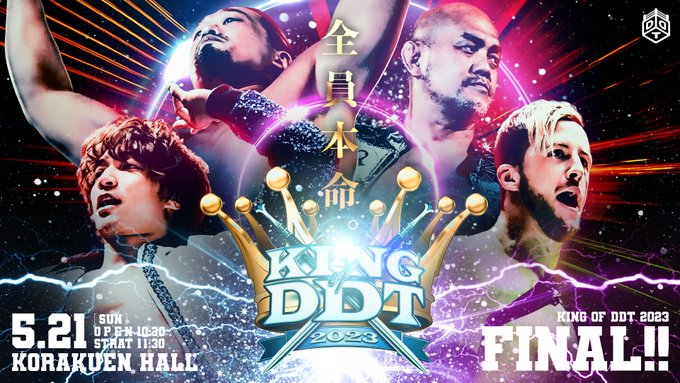 The famed Korakuen Hall in Tokyo was the site for DDT Pro-Wrestling's KING OF DDT 2023 Finals on May 21st.
The event featured two semi final matches and the final match to determine the winner of KING OF DDT 2023.
When all was said and done, it was Chris Brookes who emerged victorious and crowned the winner of the KING OF DDT 2023 tournament. Brookes defeated Jun Akiyama in the semi final match and then Kazusada Higuchi, who defeated Yuki Ueno in the other semi final match, in the finals. Brookes will now go on to challenge KO-D Openweight Champion Yuji Hino.
The mystery challenger for DDT Universal Champion Tetsuya Endo was revealed to be Matt Cardona. Endo will defend the title against Cardona, who will accompanied by Steph De Lander, on July 23 at DDT Pro-Wrestling's Peter Pan 2023.
📢7月23日両国国技館大会追加カード決定!

予告されていた元WWEスーパースターは、ザック・ライダーことアメリカインディーを席巻するベルトコレクター、マット・カルドナ! ステフ・デ・ランダーと共にDDTに初上陸、遠藤のUNIVERSAL王座に挑戦!https://t.co/q344Mf7Kwr#WrestlePeterPan #ddtpro pic.twitter.com/L8XLpX1pAw

— DDT ProWrestling (@ddtpro) May 21, 2023
Here are the full results and highlights for DDT Pro-Wrestling King of DDT 2023 Finals:
KING OF DDT 2023 Final: Chris Brookes defeated Kazusada Higuchi to win the KING OF DDT 2023 Tournament.
DDT EXTREME Championship Title Match: Shunma Katsumata(c) defeated Hideki Okatani to retain his title.
8 Man Tag Team Match: KO-D Openweight Champion Yuji Hino, Sanshiro Takagi, HARASHIMA & Naruki Doi defeated MAO, Toi Kojima, Yuya Koroku & Takeshi Masada
BURNING vs DAMNATION T.A!: Tetsuya Endo & Kotaro Suzuki defeated Daisuke Sasaki & MJ Paul
KING OF DDT 2023 Semi-Final: Chris Brookes defeated Jun Akiyama to move on to the finals.
KING OF DDT 2023 Semi-Final: Kazusada Higuchi defeated Yuki Ueno via pinfall to move on to the finals.
Dark Match: Yukio Sakaguchi, Saki Akai, Soma Takao,  Yuni & Yuki Ishida defeated Toru Owashi,  Makoto Oishi,  Antonio Honda, Kazuki Hirata & Kazuma Sumi
Dark Match: Iino "Sexy" Yuki & Danshoku "Dandy" Dino & Yumehito "Fantastic" Imanari defeated Akito & Yusuke Okada & Rukiya
🔴WRESTLE UNIVERSEで生配信中!

クリスの張り手の連打に樋口の表情が一変! 鬼神と化した樋口に敢えてヘッドバットで挑んでいったクリスだが、樋口は頭突き一発でダウンさせる!

🔽今すぐ視聴!https://t.co/Y8YN0KLhkk#KINGofDDT #ddtpro pic.twitter.com/zadbhvpNbt

— DDT ProWrestling (@ddtpro) May 21, 2023
🔴WRESTLE UNIVERSEで生配信中!

リングと鉄柵を有刺鉄線ボードで橋渡しすると、勝俣はその上に岡谷を叩きつけようとする! しかし岡谷がスワンダイブを狙った勝俣を突き飛ばし、逆に有刺鉄線ボードの上に叩きつけた!

🔽今すぐ視聴!https://t.co/Y8YN0KLhkk#KINGofDDT #ddtpro pic.twitter.com/4I4jy26aBi

— DDT ProWrestling (@ddtpro) May 21, 2023
🔴WRESTLE UNIVERSEで生配信中!

現無差別級王者である火野の逆水平チョップを食らっても、敢えて「カモーン!」と挑発していった小嶋! 若手の中にも火野とチョップを打ち合える選手がいるのだ!

🔽今すぐ視聴!https://t.co/Y8YN0KLhkk#KINGofDDT #ddtpro pic.twitter.com/KVA0gF0WCR

— DDT ProWrestling (@ddtpro) May 21, 2023
🔴WRESTLE UNIVERSEで生配信中!

上野がものすごいトペ・コンヒーロを発射! ノってる証として笑顔を見せた上野だが、樋口も上野のフロントキックを顔面で受け止める! 樋口もノっているぞ!

🔽今すぐ視聴!https://t.co/Y8YN0KLhkk#KINGofDDT #ddtpro pic.twitter.com/RUXjU7JYyv

— DDT ProWrestling (@ddtpro) May 21, 2023
🔴WRESTLE UNIVERSEで生配信中!

今年のKING OF DDTに懸けているクリスだが、今日の秋山はまさにスターネス! 場外での厳しい攻撃でクリスを痛めつける!

🔽今すぐ視聴!https://t.co/Y8YN0KLhkk#KINGofDDT #ddtpro pic.twitter.com/bnrzDmd7tv

— DDT ProWrestling (@ddtpro) May 21, 2023