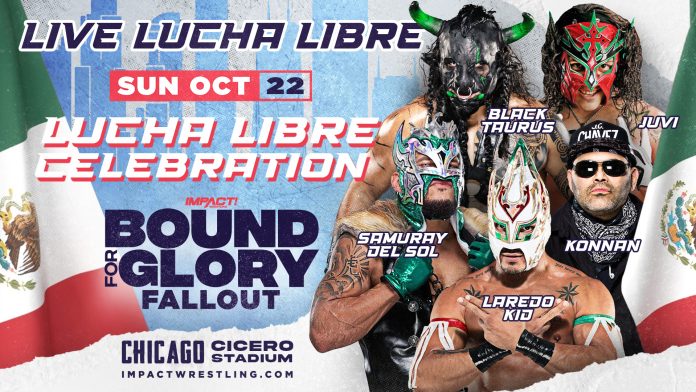 IMPACT Wrestling will be honoring Mexican legends later this month.
On Monday, IMPACT issued an announcement regarding their plans to honor Lucha Libre Legacy on Sunday, October 22 in Chicago, Ill.
The company issued the following press release today with all of the details.
IMPACT Wrestling Honors Lucha Libre Legacy On Sunday, October 22 in Chicago
Legendary Luchador Konnan Will Be Among Mexican Wrestling Legends At The Lucha Libre Celebration; Juventud Guerrera and Samuray Del Sol Will Both Be In Action
First-Ever "Lucha Fiesta" Fan Event Is Scheduled Pre-Show On Sunday With Autographs, Photo-ops, Tacos & Much More
IMPACT Wrestling confirmed today that the Bound For Glory Fallout Show on Sunday night, October 22, will be a Lucha Libre Celebration, honoring the tradition and legacy of the high-flying style of professional wrestling that originated in Mexico.
The Lucha Libre Celebration will be held at Cicero Stadium in the Chicago suburb of Cicero, starting at 7 p.m.
Fans are encouraged to dress like their favorite luchador, past or present.
The Lucha Libre Celebration kicks off at 5 p.m. with IMPACT's first-ever "Lucha Fiesta" where a very limited number of fans will get exclusive access inside Cicero Stadium to a Q&A with all luchadores at the show, commemorative, numbered collectibles, autograph opportunities, photo-ops and a traditional fiesta feast with home-made tacos, rice, beans and more. The "Lucha Fiesta" is $100 and tickets are on-sale now at shopimpact.com.
One of the biggest names in lucha libre history is returning to IMPACT Wrestling for the Lucha Libre Celebration: Konnan.
Konnan has spent more than 30 years in pro wrestling, competing around the world for World Championship Wrestling (WCW), TNA/IMPACT Wrestling, Lucha Libre AAA Worldwide (AAA), and other promotions. He has been a champion on multiple occasions, in numerous promotions. He also has been a manager, color commentator and creative consultant during his legendary pro wrestling career.
Konnan has helped develop and advance the careers of countless luchadores and he was the presenter at the 2023 WWE Hall of Fame when Rey Mysterio, Jr. was inducted.
Born in Cuba of Puerto Rican and Cuban descent, Konnan was raised in South Florida. He was in the U.S. Navy, where he won the California state (amateur) Middleweight Boxing Championship. He ultimately received an honorable discharge from the Navy and pursued pro wrestling.
The Lucha Libre Celebration also will feature the in-ring return of Juventud Guerrera, a second-generation Mexican wrestling legend who last competed in TNA/IMPACT wrestling in 2005. Juvi, as he is commonly called, is the son of Mexican wrestler Fuerza Guerrera, and he was a 5-time Cruiserweight Champion (WCW and WWE), best known for his nonstop, high-energy offense.
Juventud Guerrera is Spanish for "Youth Warrior."
Other luchadores confirmed for in-ring action at the Lucha Libra Celebration:
Samuray Del Sol
Born in Chicago's Pilsen neighborhood, Samuray Del Sol is a second-generation Mexican-American who long idolized lucha libre legends Tinieblas and Octagón. Samuray Del Sol attended Chicago's Curie Metropolitan High School, which is a 5-mile drive from Cicero Stadium. Growing up in Chicago, Samuray Del Sol participated in numerous sports, including gymnastics, taekwondo, jujutsu, amateur wrestling, and football.
Laredo Kid
Now in his 20th year as a pro wrestler, he has competed around the world, including IMPACT Wrestling and Lucha Libre AAA Worldwide. Laredo Kid has been a champion in singles and tag team action.
Black Taurus
A masked wrestler for IMPACT Wrestling and AAA, Black Taurus has been a singles and tag champion on multiple occasions. He has been aligned of late with IMPACT's Crazzy Steve, but that team has since parted ways.
The Lucha Libre Celebration is part of IMPACT Wrestling's Bound For Glory Fallout Show. Matches for the Fallout show will be announced in the coming weeks, but bitter rivalries will be settled and championships will be on the line.
Doors open at Cicero Stadium on Sunday, October 22, at 6 p.m., with preliminary matches set for 6:30 p.m. The Lucha Libre Celebration kicks off at 7 p.m.
Bound For Glory, the showcase event of the year for IMPACT Wrestling, is Saturday night, October 21, at Cicero Stadium, starting at 7 p.m. BFG will be a star-studded, electricity-filled night with two of the most anticipated matches already confirmed:
Alex Shelley defends the IMPACT World Championship against 2-time former World Champion Josh Alexander.
Will Ospreay makes his long-awaited return at BFG, facing offensive juggernaut "Speedball" Mike Bailey.
TICKETS FOR BLOND FOR GLORY on Saturday, October 21:
https://www.eventbrite.com/e/impact-wrestling-bound-for-glory-tickets-687626929657
TICKETS FOR THE BOUND FOR GLORY FALLOUT SHOW on Sunday, October 22:
https://www.eventbrite.com/e/impact-wrestling-bound-for-glory-fallout-tickets-687633459187
TICKETS FOR THE LUCHA FIESTA on Sunday, October 22:
IMPACT Wrestling Lucha Fiesta Ticket (October 22, 5pm CT, Cicero Stadium, Chicago)
# # #
About IMPACT Wrestling:
A subsidiary of Anthem Sports & Entertainment Inc. and a division of Anthem Sports Group, IMPACT Wrestling® is one of the world's top wrestling brands, producing over 200 hours of original content annually and televised in 120 countries including AXS TV in the United States. Founded in 2002, IMPACT Wrestling's deep library of premium content is streamed across the world on key OTT platforms including Pluto TV, XUMO and its own on-demand subscription service IMPACT PLUS©. IMPACT has a powerful social media presence with over 10 million engaged followers across all major services. Ancillary businesses include live events, merchandise, licensing, and sponsorship.