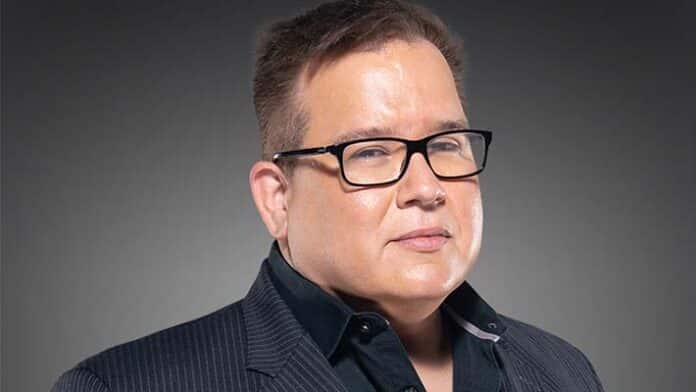 Impact Wrestling has been on a roll for quite a while, with their recent Bound For Glory PPV and successful UK tour highlighting a real strong appetite from fans for the product.
This is all on the back of announcing that the brand is returning to its original name, TNA Wrestling, which was met with very strong support from a global audience.
During the sold-out UK tour, PWMania.com's Lee Tarrier got to meet with TNA Impact Wrestling President Scott D'Amore to talk about a variety of topics including who could be joining the company in the months to come.
You can watch the complete interview below:
Here are highlights from the interview:
On returning the name to TNA Wrestling:
I think in my mind it has always been TNA Wrestling. When I returned in 2018 after leaving in 2010 and sat in this very room, answering questions about 'is this the end?' I think that in an ideal world, you know, we would have been TNA then, but I know 2018 was just the wrong time to do it.
It couldn't happen then. Previous regimes had lost the trust of the fans. So I think in 2018, the most important thing for us was to build stability and consistency. We needed to go out there and work our butts off, going back to fans, asking them to trust us 1 fan at a time and doing that by showing that when we promise something, we deliver.
If you invested your money or your time, you know, if you bought a pay per view, if you bought a piece of merchandise, we're going to reward you for that. If you spent your time watching our product because your time is just as valuable as your money, in some ways more valuable, we were going to reward that with entertainment.
And I think we've done that consistently over the last four years. And I think, you know, we flourished in a COVID era, which was a tough time. And I think coming out of that we've been working hard to continue to set the stage for where we are now. And I think now we're at a point in time where people know if you watch an IMPACT show you're gonna see a quality product.
So I think really at this point in time, it's now time to go back to our true branding. Those three initials have a lot of weight and we take that very seriously.
On returning to 6-sided rings:
Frankly, no. It's the first question that comes up and the first thing I tried to address in our press pass recently. I know that people love the six side. I was in the room when we made the decision to go six sides. And I mean, it's got a little place in my heart because it was one of the things that set us apart, but at the end of the day, just about every single talent that's ever wrestled in it says that it was it was much harder to wrestle in, was more dangerous, not just injury but but even more so just daily wear and tear.
It was harder on their bodies so I will not apologise for putting talents health and safety first. You know, I think TNA has had great matches in four sided rings matches and six sided rings. So, with all things considered, if the talent is safer and more comfortable in a four sided ring, then that's an easy decision to make.
On possibly acquiring CM Punk and Will Ospreay for TNA:
It's not a secret, CM Punk was backstage the day after Bound for Glory. That's nothing new. He was backstage earlier this year when he was under contract at AEW and they were just getting ready for the debut of Collision, so we have a pretty open policy.
If you want to come by and visit, as long as you're respectful to our crew, you will be respected. He was a pleasure to have when he came around, so is there a possibility he is here in the future, you never know.
Is there going to be a place for for veteran talent and senior talent in TNA Wrestling? Of course, you know, the value can't be understated of good senior veteran talent right now with name recognition and drawability as well. The door is open.
Will Ospreay just came in and did three events for us. He was a pleasure to have around you know, and I mean, I think it's great for Will to let his his feelings be known about how much TNA Wrestling meant to him. You know, he said he's a TNA kid. He was inspired to be a wrestler watching AJ Styles on TNA Wrestling.
And to me, that's one of the cool things, that we are part of inspiring a guy who's contract is up in February of 2024. Where's he going? Who knows? For him to sit there and say no, matter what happens in February of next year, you know, I'm always going to be supportive of what's going on at TNA was so special to me, that's cool to come out of the mouth of the arguably you know, in my opinion, the greatest wrestler in the world right now.
So, you know, the door's wide open. I think we're gonna go out there and take really some great moves in 2023 and keep pushing forward. We're going to grow and I think we're really going to make some waves.
On hiring exciting new talent like Leon Slater:
Leon Slater's is as together as I've ever seen a 19 year old. He is super talented and mature beyond his years.
He has all the potential in the world and when we talk about generational talents such as AJ Styles and Will Ospreays, there's going to be a time not too many years from now where we put Leon Slater's name in that category, and I think that having talent like Leon Slater and Harley Hudson join TNA Wrestling to start 2024 is the perfect marriage.
He's gonna accelerate every division he enters you know. The sky's the limit for Leon Slater. I think he's the perfect fit for TNA Wrestling.