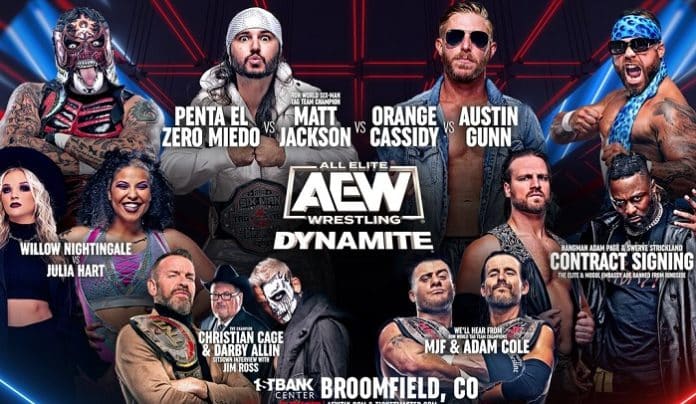 It's Wednesday night, and you know what that means …
All Elite Wrestling returns at 8/7c on TBS from the Heritage Bank Center in Cincinnati, Ohio with the Grand Slam "go-home" episode of AEW Dynamite.
On tap for tonight's show is Penta El Zero Miedo vs. Matt Jackson vs. Orange Cassidy vs. Austin Gunn, the contract signing for Hangman Page vs. Swerve Strickland, Julia Hart vs. Willow Nightingale, Jim Ross will sit down with Christian Cage and Darby Allin, and we will hear from MJF & Adam Cole.
Featured below are complete AEW Dynamite results from Wednesday, September 27, 2023. The following report was written by PWMania.com reporter Matt Boone (@MattBoone0709) as the show aired live from 8-10pm EST. on TBS.
AEW DYNAMITE RESULTS (9/27/2023)
We hear the usual "Light the fuse …" theme and then we shoot inside the 1ST BANK Center in Broomfield, CO. as fireworks explode while Excalibur welcomes us to the show.
AEW International Championship
Rey Fenix (C) vs. Jeff Jarrett
"The Dapper Yapper" Justin Roberts is in the ring and he introduces our opening contest, which is for the AEW International Championship. Rey Fenix is introduced and out he comes accompanied by Alex Abrahantes for the first defense of his newly won title.
He settles in the ring and the theme for Jeff Jarrett hits. Out comes the wrestling legend accompanied by Sonjay Dutt, Jay Lethal and Karen Jarrett. As they near the ringside area, Fenix launches himself to the floor and takes all the guys out. He continues beating down Jarrett at ringside before the bell even sounds to get this one started.
Jarrett fights back. Fenix is stopped by Karen Jarrett. He grabs her, the guys attack from behind but he super kicks them all. In the ring, the bell finally sounds and we're officially off-and-running with this one. Jarrett takes the early offensive lead over Fenix, stopping to do his trademark strut as the crowd boos.
Satnam Singh hops on the apron to interfere as Fenix starts to fight back into the lead. Fenix avoids the interference and takes back control over Jarrett as we head into a mid-match commercial break as our opening championship contest continues.
When we return from the break, we hear a "Jarrett sucks!" chant as the heel is now in control of the offense. Jarrett focuses his attack on the leg of Fenix. Aubrey Edwards gets in Karen's face at ringside when she tries getting involved again. Back in the ring, Fenix starts to fight back into competitive form.
Jarrett cuts his comeback short and hits the Stroke, but Fenix gets his foot on the ropes during the follow-up pin attempt. Jarrett goes for the figure-four leg lock but Fenix counters by rolling him up for the win.
Winner and STILL AEW International Champion: Rey Fenix
MJF, Adam Cole & "Captain Insano" Paul Wight
We shoot to the latest bro-down between MJF and Adam Cole, as the two go out on a boat for a fun day together. MJF thanks Cole for helping him and mentions him getting injured in the process.
MJF gets jealous about Cole being on the phone with Roderick Strong for too long. In a parody of The Sopranos, we see MJF go to the cooler to get Cole a beer and slip on the Dynamite Diamond Ring.
He looks evil and then Cole asks if he brought him out here to hit him with the ring and dump him overboard. MJF denies it but then mentions how he got in trouble the last time he tried anyway.
They get a bite while fishing and it's Paul Wight dressed up as Captain Insano. He joins them on the boat for a beer.
The Latest From The Don Callis Family
We shoot to video footage of Don Callis and Konosuke Takeshita in Tokyo, Japan. Callis says they know all of Kenny Omega and Kota Ibushi's hang outs in the area, and when they find Ibushi, Omega is going to need a new partner for AEW Wrestle Dream.
On that note, we shift gears and head into a quick commercial break. When we return from the break, Renee Paquette is in the ring and she introduces Callis and Takeshita, and the two head out to the ring together to a ton of boos.
Sammy Guevara is introduced next. Out comes "The Spanish God" with a Scarface-looking tron graphic. He heads to the ring looking like a cocky heel. When he settles in the ring, Paquette asks about Callis and Takeshita being in Tokyo.
We see footage of Callis and Takeshita entering some gym in Tokyo. Takeshita attacks Ibushi in the gym. He beats him down with a foreign object and leaves him laying. Callis talks trash to him as he's unconscious.
Guevara says he's being painted to be the bad guy, but Jericho is the real bad guy. The fans loudly chant "F*ck you, Sammy!" He says Jericho was holding him back. He was great on his own. Anytime he started to fly high, Jericho would try and clip his wings.
He waited for Jericho to pass the torch, but he never did. He says Callis showed him that Jericho is jealous and now it's time for him to take what is rightfully his. Callis vows to take what is left from Ibushi, Jericho and Omega at Wrestle Dream.
Wheeler Yuta Challenges Ricky Starks For Wrestle Dream
We see highlights of the Texas Death Match on Collision and then shoot to footage of Ricky Starks commenting after the match.
Wheeler Yuta confronts him and talks about getting involved after the match. Starks tells Yuta if he puts his hands on him again, he won't walk out of the ring. Yuta tells Starks he's an entitled prick who is all style and no substance. Yuta challenges him to a match at Wrestle Dream.
AEW International Title Eliminator
Nick Jackson vs. Brian Cage vs. Claudio Castagnoli
Back inside the arena, Nick Jackson makes his way out to the ring for our next match of the evening. He settles inside the ring and then Brian Cage's music hits and out comes "The Machine." Finally, Claudio Castagnoli makes his way out.
The winner of this match will advance to challenge Rey Fenix for the AEW International Championship at the fourth anniversary of AEW Dynamite next Wednesday night. We see some back-and-forth action and then we shoot to a mid-match commercial break.
When we return, we see Jackson go on an offensive rampage, hitting high spots all over the place as the crowd in Broomfield goes wild. The commentators talk about the elevation possibly affecting the talent. Castagnoli gets the giant swing on Cage.
Jackson breaks up a follow-up pin attempt and then Cage gets a moment in the offensive spotlight, hitting a big top-rope super-plex on Castagnoli for a near fall of his own. The fans chant "This is Awesome!" as Jackson starts hitting super kicks on everyone that moves.
"The Machine" hits a big power bomb on Castagnoli. Jackson hits a hurricanrana to knock Castagnoli out of the ring. He follows up on Cage and gets the pin for the win. Jackson will challenge Fenix next week for the International title.
Winner and NEW No. 1 Contender For AEW International Championship: Nick Jackson
MJF & Adam Cole Reveal Some News
We see a video package for The Righteous and then we head into another commercial break. When we return, MJF and Adam Cole make their way down to the ring to a huge pop. MJF helps Cole into a chair as he is on crutches. He informs us that "The Devil" has arrived in Colorado.
He tells Adam Cole to talk to them. Cole, from his chair in the ring, asks who is ready for story time with Adam Cole, bay-bay? He says unfortunately this is a sad chapter in the story, because last week he got hurt and really, really bad. He says his ankle broke and exploded in three different places. He gets emotional saying he has to go get surgery.
Cole says because he can't compete, they have to relinquish the ROH Tag Team titles. MJF tells him to hold on. He says it's his fault Cole is injured because he needed his help at Grand Slam. MJF says he's gonna take on The Righteous in a handicap match to defend the titles.
After they make the announcement, we hear someone yelling Adam's name. It is, of course, the leader of neck health awareness, Roderick Strong, who is wheeled out in a wheel chair in his hospital gown by The Kingdom. He tells Cole he needs him more than ever right now. He says it's an emergency. MJF tells him to hold on and calls Strong a simp.
Friedman says he learned on the boat that even if he doesn't like it, Strong is Cole's friend. He tells him to go do what he's got to do and he'll be here when he gets back. Cole and MJF hug and then Cole crutches out of the ring to go to Strong.
Jay White Confronts MJF
MJF asks everyone to give Cole one more big hand as he leaves with The Kingdom. He goes to continue talking but is interrupted by the theme of Bullet Club Gold. Out comes Jay White, Juice Robinson and The Gunns. White heads to the ring by himself as the others go backstage.
White tells MJF to shut up. MJF tells White he must be smoking some good Colorado weed. The fans chant "Weed! Weed!" MJF then talks about how he has been told he's good, but he's no Jay White. The fans chant "Bullsh*t!" at that one.
MJF says he's filet migneon and White is tofu. He says it's boring and bland, like White. He says White got the cool faction, the cool nickname, the cool theme music and when you take that all away, you've got bland and boring White. He says he's what someone in Japan thought was a top guy.
He says here's some advice from a real top guy, leave this ring, because if you don't, for the rest of your career whenever their names are mentioned, it will read as follows, "Sure, Jay White's good, but he's no Maxwell Jacob Friedman. Because I'm better than you, and you know it."
Jay White says he thinks MJF wants people to chant "BAY BAY!" after his name, but they don't like him as much as Adam Cole. He then mentions how it's MJF's fault that Cole got his ankle injured. White then makes it clear he's out to take MJF's world title. MJF takes his belts and shirt off ready for a fight but White exits the ring and walks off.
Jim Ross Sits Down With Christian Cage & Darby Allin
Now we shoot to Jim Ross, who is sitting down with Christian Cage and Darby Allin. J.R. asks Cage about winning the TNT title on Collision. He said he's had it for months. J.R. brings up Cage losing twice to Darby before.
Cage talks about how he personally requested the two out of three falls match for this weekend, even though we saw him get informed about it for the first time on live TV. He then talks about Darby Allin's family and Darby mentions how he's still alive and nothing can stop him on Sunday.
Christian tells Darby that the match is in Seattle. He tells Darby to bring all of his family so they can see what happens. He tells him to bring Nick Wayne too. He mocks Darby for painting his face, so Darby grabs water and starts scrubbing it off, claiming he isn't hiding from anything. Cage says he'll always be the face of TNT and tells Darby to get used to it.
Orange Cassidy vs. Penta El Zero Miedo vs. Matt Jackson vs. Austin Gunn
We head back inside the 1ST BANK Center where the catchy entrance tune for Orange Cassidy plays. The "Freshly Squeezed" one heads to the ring for the scheduled four-way match. The partners for everyone in this match at Wrestle Dream is banned from ringside.
As Cassidy settles in the ring, we shift gears and head into a pre-match commercial break. During the break, Penta El Zero Miedo, Austin Gunn and Matt Jackson all make their ring walks. When we return, the bell sounds to get this one started.
After some back and forth action, we see Penta and Gunn left alone in the ring. They stare each other down and do some weird interaction with the crowd, taunting each other in the process. Cassidy comes back in and starts to take over. He and Gunn start duking it out as Penta is knocked to the floor.
On that note, we shift gears and head into a mid-match commercial break as this four-way showdown continues. When we return from the break, we see Jackson and Gunn fighting on the top-rope. After a big high spot, Cassidy and Gunn end up there. Cassidy knocks him down and then launches himself to the other two on the floor.
We see each guy hitting destroyer after destroyer. Gunn is the only one who doesn't hit one. This goes on for a while, too. Cool stuff. Jackson hits locomotion Northern Lights suplexes on Cassidy. We see a wild multiple-pin spot by Jackson but it doesn't seal the deal. In the end, Cassidy hits an Orange Punch on Jackson for the win. We head to another commercial.
Winner: Orange Cassidy
Julia Hart vs. Willow Nightingale
When we return from the break, Julia Hart makes her way out to keep The House of Black gimmick alive. She heads to the ring accompanied by Brody King as the lights are down low. She settles in the ring and her music dies down.
Now the lights come back on and the atmosphere picks up a bit, as the fun-loving entrance tune for Willow Nightingale plays and out she comes with her head wrapped up as the commentators reference her having only one eye for this match.
Julia Hart is shown smirking as she glares at Willow. The bell sounds and we're officially off-and-running with this one. Willow immediately takes it to Julia, working her over in the corner of the ring as the fans cheer her on. Hart fights back and rips at the eye wrap on Willow, which comes up and shows her badly blackened eye.
The action spills out to the floor. Julia crawls under the ring to avoid Willow. Brody King stands in front of her as Julia crawls out the other side of the ring and chop blocks Willow's knee from behind. On that note, we shift gears and head into a mid-match commercial break as the action continues.
When we return, Hart picks up the win. After the match, she continues to beat down Willow until Kris Statlander comes out to make the save.
Winner: Julia Hart
Wrestle Dream Contract Signing
Now we hear Excalibur speed-read through updates for the lineups for next Wednesday's four-year anniversary edition of Dynamite, this Friday's Rampage, this Saturday's Collision and this Sunday's Wrestle Dream.
When he finishes up, we hear the familiar sounds of Swerve Strickland's theme music. He makes his way down to the ring for the scheduled contract signing for Wrestle Dream against Hangman Page. As he settles in the ring, we head to a commercial break.
As we settle back in, we see Swerve in the ring for the contract signing with Renee Paquette. Paquette mentions Wrestle Dream being in his hometown of Seattle and then introduces his opponent, Hangman Page, who makes his way out to join him in the ring.
Paquette mentions The Elite and The Mogul Embassy being banned from ringside for the contract signing tonight. Swerve talks first, finishing by saying what's a buckshot to a kill-shot. Page talks about Swerve making good points last week and mentions how he's back now and ready to get things back rolling.
Swerve takes some cheap shots at the Denver Broncos for cheap heat on the Broomfield, Colorado crowd. Swerve says he's gonna take Hangman's spot on Sunday. Hangman says he doesn't have what it takes to fill his boots. Swerve slaps him and signs the contract. Hangman stabs Swerve's hand and then signs it as well.
We shoot backstage and see a bunch of masked men beating down Jay White. Nothing is explained and that's how this week's show wraps up. Thanks for joining us!