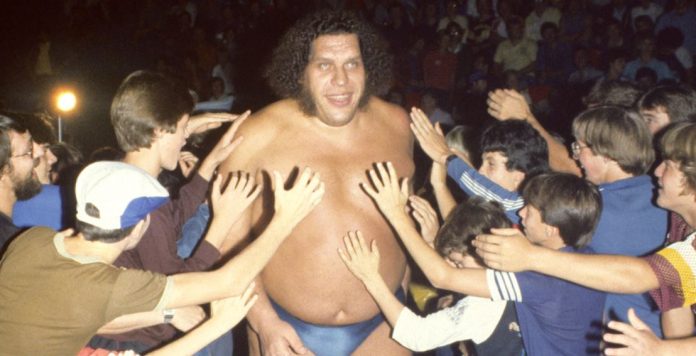 This weekend, the life and legacy of WWE Hall of Famer Andre the Giant will be honored in Ellerbe, North Carolina.
"A Giant Tribute" is a festival in Ellerbe that includes an Andre exhibit at the Rankin Museum of American Heritage, a street fair, an indie wrestling show put on by Titan Championship Wrestling, and the opportunity to meet Andre's daughter, Robin Christensen-Roussimoff. There will also be a meet-and-greet with WWE Hall of Famers Ted DiBiase and Bob Orton, as well as Haku, The Warlord, The Barbarian, AEW's Mark Henry, and others from Andre's era.
Andre spent the last 12 years of his life at the AFJ Ranch in Ellerbe.
"Andre was such a big part of our town," said Brett Webb, President of the Rankin Museum, to Sports Illustrated. "He lived in Ellerbe at the AFJ Ranch for the final 12 years of his life. When he wasn't on the road, he was just another guy in Ellerbe. So to be able to honor him, it's really special for the community. Andre was larger-than-life here. We're honored to hold a giant celebration here."
The Rankin Museum's Andre exhibit includes The Giant's size-26 red wrestling boots, pink ring jacket, Giant Machine mask, one of his famous black singlets, and Andre-inspired drawings by WWE Hall of Famer Bret Hart. Photos from Andre's personal life and career will also be on display, thanks to the generosity of famed Andre historian Chris Owens, who donated many items from his collection to Ellerbe.
"I am bringing around 50-60 photos for a display that will showcase Andre's career in and out of the ring," Owens told SI. "The majority of these photos will not have been seen before by the general public. The photos will show Andre at home in Ellerbe, as well as various photos from his time in Montreal, Japan, and the territories in the 1970s and 80's."
On Saturday, "A Giant Celebration" will run from 1pm to 10pm in Ellerbe. Visit the Rankin Museum website at this link for more information on the planned attractions.