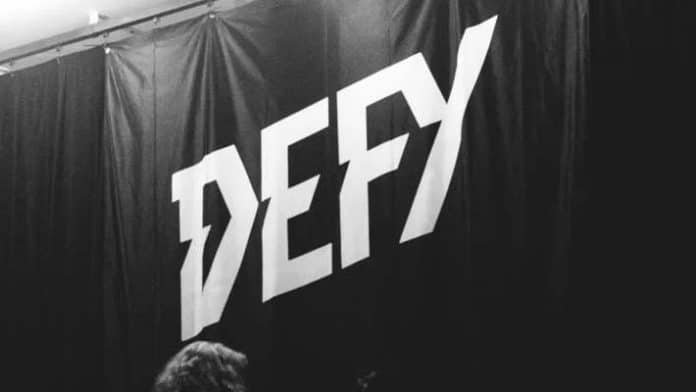 DEFY Wrestling is hitting the UK for the very first time over the weekend of AEW's All In show at Wembley Stadium. With it being quite possibly the biggest weekend in wrestling history, the company is running a double header with PROGRESS Wrestling at the famous Electric Ballroom in Camden on Saturday, August 26th, headlined by a mouth-watering encounter between KENTA and Mark Haskins.
In the lead-up to the show, PWMania.com caught up with co-founder Matt Farmer to discuss DEFY's show in London, their relationships with AEW, NJPW, and WWE. We also discussed how the company has grown into one of the most respectable and loved promotions worldwide.
You can check out the complete interview below:
How did DEFY's first show in London come about?
Well, a lot of it comes about because of our partnership with PROGRESS. We've had this long lasting relationship with them where we've done events together and things like that in the past and this time, instead of PROGRESS coming to the United States, we're coming to the United Kingdom. And that's really how it came about. And man, I can't tell you how excited we are to come to the electric ballroom
How tough is it to put on these shows overseas?
Logistically it can be a problem but with PROGRESS having an event later that evening , it has helped to work together. It can be challenging because we are looking at bringing over a crew to the United Kingdom and of course, with flights and everything like that, that can be trouble but hey, it's what we do when we promote events. You know, here in the United States, we run events where we bring in international talent all the time, so it's nothing new to us.
For those new to DEFY, what can they expect?
So, we've been around since 2017 here in Seattle, Washington. And we, similar to PROGRESS at that time, really wanted to run events that were more than just professional wrestling events. We wanted them to come across as almost like attending a concert. That was really our goal. At the time, Washington and Seattle specifically, was almost like a black hole of professional wrestling. There wasn't a lot going on a lot of that had to do with legalities and state regulations and things like that. But we worked with the state to help alleviate some of those things. Since that time, we've grown professional wrestling in the Pacific Northwest and it's really grown on the entire west coast of United States as well. Since that time, we partnered with companies like PROGRESS, NJPW and even AEW currently, all to bring the best talent to the northwest. And also in that time, we've also helped develop some of the best wrestlers in the world. that have come out of the Pacific Northwest.
I think the crowd got what we wanted to achieve from the very first event we did which, interestingly enough was headlined by Cody Rhodes versus Swerve Strickland. (laughs) I don't know whatever happened to those guys.
We started out that event and with those two guys headlining and from the get go, it had a lot to do with the venue that we picked, the atmosphere that we presented, all the way down from who we chose as the ring announcer, how we videotaped it, everything, you know, we wanted to come across as more of a punk rock product.
Was it hard to get such established names like Cody Rhodes and Swerve Strickland for DEFY's debut show?
It might have been but what you do is you build a rapport with those guys, you know, someone like Swerve we've worked with for a long time now and man we're so proud of the growth that that guy's seen and you know, in my mind, he is one of the top guys, very top guys. I mean, he should be main eventing everywhere right now.
His views and feelings on professional wrestling aligned with us and so we were able to come together and mutually put on an event that we both thought would be great, right? And same with Cody Rhodes.
Cody Rhodes was very helpful in those early years as well, helping us kind of find our footing. A lot of the wrestlers we hired, we hired specifically for those purposes to. If there was a wrestler who we felt didn't share our vision, we didn't hire them, you know. It's just everybody has a certain vision and maybe they didn't align with that vision. So, you know, we would choose a lot of those people very strategically.
How important is it for you to blend well known stars with building the talent of tomorrow?
Well, you see a guy like that Nick Wayne, for instance, who, you know, I've known since he was a baby. I posted a picture on Twitter where Nick Wayne was standing next to Cody Rhodes and Nick Wayne was, I think, maybe 10 or 11 years old at the time. It was interesting because it's like, we saw Nick coming, you know, five years ago, six years ago, we saw that there was potential there, and you start working with those guys.
And not only do you work with them, by presenting them in favourable lights, but you also work with them behind the scenes and say, 'Hey, maybe do this, maybe try that' or, you 'what about doing this' and by no way do you want to take anything away from what they've done, because it's them, you know, they're the ones that accomplish these goals.
But it also says something about their integrity when they are able to listen to ideas, take them on as their own. So we're always looking for local talent. We have guys like Schaff, who's going to be wrestling in the UK on August 26. We have guys like Chun, Nick Wayne, guys like Darby Allin and even Brody king who you know, was one of the guys that we flew him out of his local area first, to present on our events and it's because we saw something in him and along the way we help them grow and mutually help each other out.
How do relationships with companies such as AEW and NJPW get established?
A lot of that has to do with your relationships with specific talents. So, guys like Christopher Daniels who was a long reigning DEFY World Champion, who just so happens to work with AEW in a pretty important role. Maybe I'm giving away a trade secret here but when a wrestler comes into your company, treat them nice, treat them well, be organised and that will go a long way. So when talent that go on and do things like that with a bigger company, they remember how you treated them when they were working for you. And if there's something that comes up, they're like, they might say hey, this guy treated us well or these guys know what they're doing. Or these guys aren't idiots. You know, that goes a long way to establishing relationships.
What are some stand out DEFY matches for fans to watch?
Well, it's interesting. We held a show this past Saturday which, you know, on paper was a great looking show. We had Jon Moxley versus Artemis Spencer who a lot of PROGRESS fans may remember from Super Strong Style 16 a few years ago, well, he's one of our homegrown guys that we have put a lot of faith and energy into, as well as being a former DEFY Champion. So, Jon Moxley wrestled Artemis Spencer who internationally is not super well known, but boy, they just tore into each other. The match was fantastic. Maybe one of the best Jon Moxley matches I've seen in a long time.
And that might not even have been the best match of the show. You know, we had Vert Vixen, who is our current DEFY Women's World Champion take on Billie Sparkz, who is also making a big name for herself. And they tore it up in what might be my favourite women's match I've seen in DEFY history. We had a couple of four ways as part of a tournament. We hit our intermission right after our third match and I remember a lot of people were talking in the audience. They were like, I can't recall another event that has three matches back to back that had the 'this is awesome' chant throughout the entire match.
So it's really hard to look back on some of those matches that really like stand out to me but like this past year, for instance, Nick Wayne versus Swerve where Nick Wayne won the DEFY World Championship. That match was tremendous. When Kenta, our current DEFY Champion defeated Nick Wayne, just a few months ago, that match was spectacular. You know, it's hard to like pinpoint many. My favourite matches ever because it's it's hard to say. I mean, heck, when Pete Dunne was the WWE UK champion, he came into DEFY and wrestled Brody King, that match was tremendous. You know, we had Walter, the PROGRESS champion at the time, wrestle Schaff when Schaff was very young in this business, and that match was tremendous. I mean, it's hard to pinpoint what's been the best match or my favourite match, but there's been so many honestly.
Do you feel the pressure to constantly deliver and grow as a company?
There is a pressure especially because we've had this unique opportunity where a lot of wrestlers will come in and make surprise appearances or big names like a guy like Jon Moxley, who does come in on a semi regular basis for us, who's arguably one of the biggest stars in the business.
You know, it's it's hard to top that you know, you get that Jon Moxley on your show. Well, who would you bring in on the next show to top that, right? Or you get a guy like Minoru Suzuki or Kenta or the Young Bucks just showing up out of nowhere on one of your events. How do you top that? It's hard to do.
But you just always got to be creating new things to present to the fans. A lot of fans may not be familiar with DEFY, and may find out about us as they might be familiar with the moment that went viral where they saw Darby Allin show up as a surprise to offer Nick Wayne the AEW contract. So, always keep it unique and fresh. A little interesting fact about that is Nick Wayne didn't even know Darby was in the state. When that happened, you know, it's a complete surprise to him. He was wrestling Christopher Daniels that evening for the DEFY World Championship and when Darby's music hit, he didn't even know Darby was in town, and they're close friends.
Do the bigger companies understand how important a role companies like DEFY play into their business?
Yeah, very much. The quality of entertainment you're going to get from our show is just as good as what you're gonna get at the best WWE show or the best AEW show. I would stack up our cards against any promotion in the world. And I've been and I've seen every promotion and so I know, just as a fan, I would put those up against anybody else.
Guys at larger companies like Tony Khan are smart to the fact that they do need companies like DEFY to survive long term. They knew they need that next generation of wrestlers. You know we we also have a good rapport with WWE as well. We've had WWE scouts out to our events even within the last year. It's just something that they realise they need. Strong companies, independent companies to feed talent to them. And we realise where we're at, you know, so we don't have a problem with that. But as long as it's done, right. I think it's very, it's good for the industry as a whole.
KENTA vs Haskins in London. You can't get much bigger, can you?
Agreed. It's hard to find another legend in the industry like KENTA. I mean, he's the guy that wrestlers want to wrestle because he's such a legendary guy. People remember his matches back in the early 2000s, or his matches at ROH. They were just tremendous. And in the last couple years, he's like seemed almost like he's on a resurgence right? He's just putting out great match after great match again and is in the second chapter of his career where he's just really doing a great job.
Then you have Mark Haskins. Here's a little a little secret about Mark Haskins. He was always one of those guys when partner Jim Perry and I when decided to start DEFY and when we were looking at international talent who really want to work with, well, Mark Haskins was on that list of guys we wanted to work with four or five, six years ago. It didn't happen, whether its timing or visa issues or contract issues. We just weren't ever able to come together and work together. But Mark, and we've shared this with him, has always been on that list of guys that we've wanted to work with. So when we knew we were coming to the UK, one of the first things we said is, hey, we got to try to work with him. Because he's a phenomenal wrestler. You know, he's a great talent and we know Mark always puts on a great performance. I can't wait to see that match.
What excites you most about coming to London with DEFY?
I'm most excited for to see the talent that we're bringing over experience the crowds in the UK. I've had a lot of experience with the fans from the UK, especially this past spring when Wrestle Tours brought over a crew to WrestleMania, I had the pleasure of being on the bus with them to WrestleMania and I was in the suites with them during Wrestlemania. So I know a lot of you guys out there and had the honour of meeting a lot of the fans. And so I can't wait to see them again because there's some very cool dudes over there, very, very cool people, that our roster will love.
What do you want the future of DEFY to look like?
Well, we're in a sweet spot right now but you know, there's always the visions of growing and getting bigger and growing internationally. I'd like to see us going coming back to the UK. If the right circumstances are coming up. I'd like to see us in other countries as well. You know, this past year we also debuted in Toronto, so I'd like to go back to Toronto, as well as a lot of other states in the United States.
When you go to our events or talent comes through those doors, they always talk about how loud our fans are and how enthusiastic our fans are. I know the UK audience understands that because they're very loud just like we are. Seattle is a special place because our fans are very passionate, very loud. So, we want to keep doing what we are doing, entertaining fans and bringing the best wrestling to them.
If there was one wrestler you could get on a DEFY show, who would it be?
Bryan Danielson. For sure. Bryan Danielson. He talked publicly about it and it's going to happen this year. Bryan is a local Washingtonian here and is not too far from where we're at. You know, that's the guy that we would like to get here.
DEFY: The Splendid and The Vile takes place as part of a double header with PROGRESS Wrestling: It's Clobbering Time on Saturday August 26th. Get your tickets by clicking here.