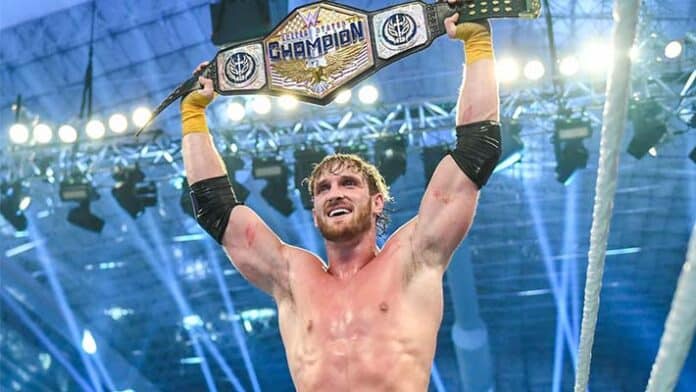 There have been positive and negative reviews of WWE's use of Logan Paul in the company, where he has only worked a few matches. He's the latest celebrity to work WWE matches, joining Johnny Knoxville, Bad Bunny, and Pat McAfee.
Paul defeated Rey Mysterio for the WWE United States Title earlier this month at Crown Jewel. This marks his first championship in WWE.
Johnny Gargano was asked about celebrity involvement in WWE and why they're successful when wrestling during the Battleground Podcast. He mentioned them growing up as wrestling fans and athletes.
"I always point to Pat McAfee," Gargano stated. "Pat McAfee, huge, huge, huge wrestling fan, athletic freak. Just had such a great mindset. And that's kind of what it all comes down to as well. If you come into pro wrestling and you have a great mindset, if you love this, genuinely love this, you want to be great at it, and you're athletic. I think those are the three traits that are really going to help celebrities and really have already helped celebrities. I think those guys have gone above and beyond, and you point to celebrities that have been successful in what we do. I think those three stand above and beyond, and they've just set the bar so high for everyone else."
Gargano was then asked about a title match against Paul. He stated that he is constantly considering titles such as US, Intercontinental, Tag Team, and World Heavyweight. He also mentioned how Paul and he are both Cleveland natives.
"Logan Paul has taken that United States Championship everywhere he has gone, and he has gotten so many new eyes on that United States championship," Gargano stated.
He recognized that Paul has been successful in WWE before adding, "He has put his all into our sport. He has had incredible matches. Yeah, he's had some awesome matches. People don't want to say it because he's Logan Paul or whatever. He's absolutely killed it. And now he's taking the United States Championship places that he wouldn't normally be."
Gargano concluded by saying that new fans are discovering WWE as a result of Paul.
You can check out the complete interview below:

(h/t to WrestlingNews.co for the transcription)