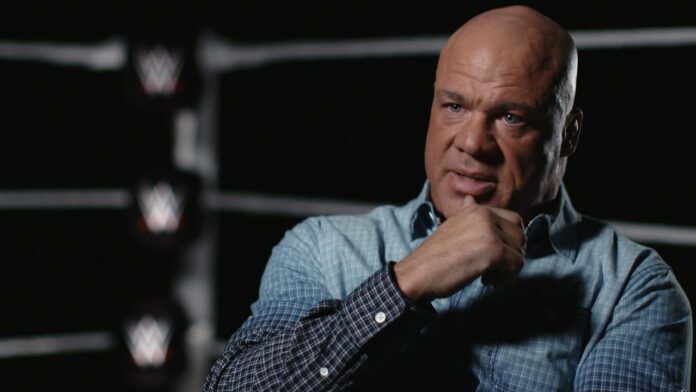 First impressions are everything.
Unfortunately for Kurt Angle, he made a bad one on Hulk Hogan.
The Olympic gold medalist and WWE / IMPACT Wrestling Hall of Fame legend spoke on the latest installment of his "Kurt Angle Show" podcast about how he regrets making a bad first impression on "The Hulkster" in WWE.
"Great guy," Angle said of Hogan. "And I felt bad about everybody telling me, Watch out, Hulk Hogan's coming. He's going to politicize. He's going to fight for himself and not for anybody else, and they got me all fired up like this guy was a bad person."
Angle continued, "He wasn't at all. He didn't do any political thing. No politicizing, no, nothing political. He was; he just came and was there to work. He was there to work hard and make a living. And I felt bad about how my first impression was of him."
Check out the complete episode of the "Kurt Angle Show" at Spotify.com. H/T to WrestlingHeadlines.com for transcribing the above quotes.