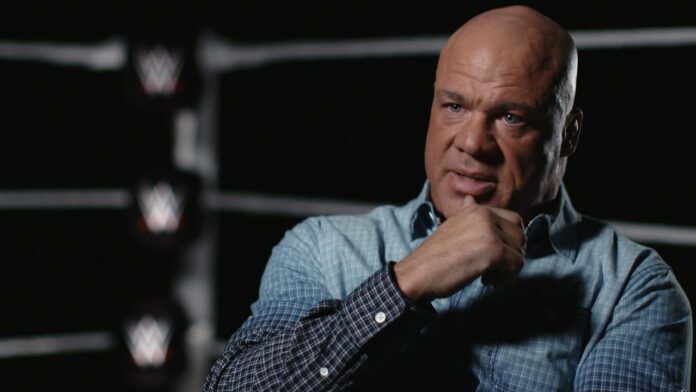 Kurt Angle recently took part in an A.M.A. version of his podcast.
During the Ask Me Anything chat, the WWE and IMPACT Wrestling Hall of Fame legend reflected on working with William Regal and spoke about whether or not there was anyone he didn't like working with.
Featured below are some of the highlights from the interview.
On how he feels Willian Regal should be inducted into the WWE Hall of Fame: "William Regal was so fun to work with doing the pretty tapes with him. We were laughing our asses off. He was so entertaining. And when he got in the ring, he was just as technical, if not more technical, than I was. He knew his shit. But, I would say that if he got inducted into the Hall of Fame, which I believe he deserves to be, I think it should be his European connection, Fit Finley. Okay. I think that would be a great person to induct him. Fit. Fit had an incredible career, and I think that Fit would be a great person to induct his fellow European, William Regal."
On whether there was anyone he hated working with: "I've been fortunate. There's nobody that I hated working in the ring with. It doesn't mean I had bad matches. I didn't have bad matches. I did. I even had a bad match with Eddie Guerrero. So, I can't think of anybody I did not look forward to working with. I can't even think of anybody. I've always looked forward to everybody I work with, but I'm telling you, I had, you know, a dozen bad matches that I was like, 'Oh shit man, this was horrible.' And, so we, you know, nobody's perfect. Everybody has some good ones, some bad ones, but I can't think of anybody I have worked with that I didn't like working with. In other words, I wrestled Eddie a hundred times, but I had one bad match with him."
Check out the complete episode via the YouTube player embedded below. H/T to WrestlingHeadlines.com for transcribing the above quotes.