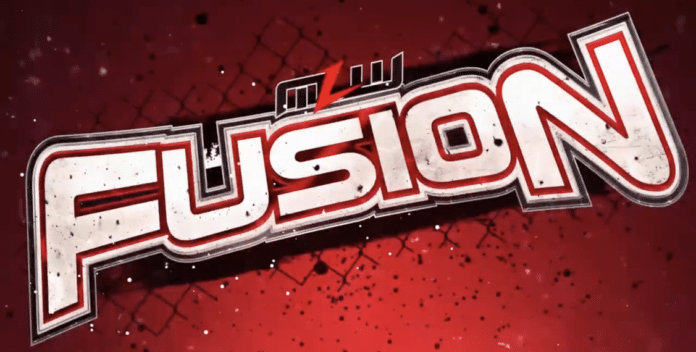 MLW Fusion Results – September 7, 2023
Kicking off this week's Fusion with Mister Saint Laurent complains that Mance Warner bit his foot at Fury Road. Matt Cardona will be going after the 2nd Gear Crew.
MSL to run down the crowd and MLW but the World Titan Federation has a promoters license and MSL brings out his 1st signing Snitsky.
Snitsky vs. Yoscifer El
Snitsky attacks at the bell and hits a scoop slam then a boot from Snitsky follow by a chokeslam for the win.
Winner: Snitsky
After the match they try for a stretcher job after the match but Snitsky attacks Yoscifer again just because it amuses MSL.
We get a video package for Salina De La Renta.
Calvin Tankman talks in the back & he's one of the biggest and baddest hitters MLW offers. He wants his 1st singles title in MLW by winning the WXW Unified World Wrestling Title.
FBI & Jesus Rodriguez interrupt Matt Striker in the ring Guido gets the mic from Striker and tells him to shup his face and they eject him. Rodriguez is happy to be a part of the FBI they've got latin roots and the same colors. He wants to help them deal with Microman. They're going to put Microman in cement shoes and have him sleep with the fishes. Midas Black interrupts this with his introduction of The Mane Event & Microman.
6 Man Tag Team Match
The Mane Event (Jay Lyons & Midas Black) & Microman vs. FBI (Little Guido & Ray Jaz) & Jesus Rodriguez
Little Guido & Microman start us off, Microman with a bite to the posterior then Rodriguez tags in and kicks Microman but it didn't land but Microman sells it anyway. Rodriguez with a gut buster then a kick to the back. Guido tags back in and drops an elbow on Microman.
Ray Jaz with a few cheap shots to Microman then he tags in officially. Microman avoids a double clothesline then pokes FBI in the eye but Rodriguez cheap shots The Mane Event to prevent a tag out.
Guido holds up Microman then Jaz holds him up as well but Microman fights back and makes Rodriguez spear Jaz then tags in Midas Black & he gets to run wild for a bit then tags in Jay Lyons and they hit a 619 into a Lyonsault and Black with a follow up splash but Guido breaks up the pin as we go to a break.
After the break Guido low bridges Black & Rodriguez with a cheap shot to Lyon but Lyon with his own comeback before eating a kick from Rodriguez. Black superkicks Rodriguez then Lyon and Black hits Jaz with a flapjack into an X Factor & Microman bounces off of Jaz and hits a mini Vader Bomb to get the win.
Winners: The Mane Event & Microman
After the match Sam Adonis with a chair. Adonis isn't fooled by Microman and talks about Microman being run out of a Mexican promotion because everyone hated him. Microman has a wife and child but ran away from his family after his infant son got more attention. Snitsky comes out now and Snitsky with a double chokeslam to The Mane Event. MSL is here as well and has a bag he laments that he & Microman could have made tons of money but now he's got his new promotion. In the bag MSL has a bunch of dolls for Snitsky to punt man this is a deep cut segment. A few punts from Snitsky to the dolls then goes to field goal kick Microman as Adonis holds him but here comes 2nd Gear Crew to break this up and save Microman. Adonis, Snitsky & MSL run from 2nd Gear Crew.
Sam Adonis talks in the back & he's going to prove that Microman is a fraud and send him out of MLW next week.
Hype video for MLW World Champion Alex Kane
WXW Unified World Wrestling Title Match
Shigehiro Irie (c) vs. Calvin Tankman
Calvin Tankman with some jaw jacking and shoves Shigehiro Irie then they lock up as Irie grabs a side headlock but can't knock Tankman over with a shoulder block. Another shoulder block from Irie but he can't get Tankman down and Tankman hits the ropes to drop Irie. Tankman wants a fight and Irie will give it to him and they trade elbows.
Tankman with chops and elbows then he tosses Irie out of the ring then some ringside brawling now as Tankman tosses Irie around and chops him against the barricade. Some more barricade shots from Tankman but he misses a charge and eats the barricade.
Irie trips up Tankman with a chair and the chops him and hits a jumping attack then back in the ring now Irie catches Tankman through the ropes with strikes but he charges and Tankman catches him with a snap powerslam on the apron through the ropes.
Kicks and chops from Tankman but Irie is firing up now. Irie & Tankman trade elbows now before Irie tries a scoop slam but he can't lift Tankman & Tankman hits the scoop slam then a running splash for a 2 count as we go to a break.
After the break Tankman landing strikes to Irie in the ropes. Irie lands a boot then sort of another one before Irie fights back with a flurry, hits an ankle pick and a falling hammer fist to the downed Tankman and both men are down. Irie sends Tankman to the apron then slams him into the ring post. Low angle crossbody to the back of Tankman and both men spill to the floor.
Back into the ring Irie wants a Backdrop Driver but Tankman fights free and hits a flurry of strikes then Made In Japan for a 2 count. Irie avoids an elbow to the back of the head and grabs a Sleeper but Tankman stands with Irie on his back then slings Irie down to the mat.
Pop up back elbow from Tankman then a folding powerbomb for a 2 count then the elbow to the back of the head connects from Tankman. Tankman wants the Tankman Driver but Irie blocks it then slips off of his shoulder.
Running strikes from Irie in the ropes then a running clothesline but Tankman stays upright. Irie fires up and hits Beast Bomber to put away Tankman.
Winner & Still WXW Unified World Wrestling Champion: Shigehiro Irie (STILL CHAMPION!!!!)
After the match Irie & Tankman share respect.
In the back Jacob Fatu claps and says we've seen him upset and yelling but he's got to give it to Court McGee. Minoru Suzuki is coming here and Fatu wants that smoke.