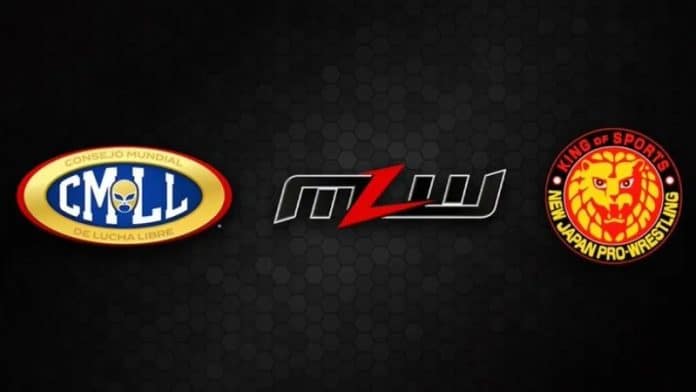 NJPW, MLW and CMLL are teaming up for a new strategic alliance.
The companies issued the following press release with all of the details.
(NEW YORK / MEXICO / TOKYO) — Major League Wrestling ("MLW"), Consejo Mundial de Lucha Libre ("CMLL") and New Japan Pro-Wrestling ("NJPW") today announced the formation of a landmark strategic alliance.
The three world class organizations will unite for a variety of crossover collaborations, commencing this October. The strategic alliance creates the ultimate stage for each organization to showcase their signature fighting styles and athletes.
"It's a privilege and honor to forge an alliance with CMLL and work with Mr. Salvador Lutteroth Lomeli and his team while expanding MLW's relationship with New Japan to create an extraordinary collaboration," said MLW CEO and Founder Court Bauer. "I wish to thank Mr. Salvador Lutteroth Lomeli, Mr. Naoki Sugabayashi, Mr. Takami Ohbari and Rocky Romero for building the foundation for this opportunity. We look forward to showcasing the extraordinary athletes from Mexico, Japan, and America for fans worldwide."
Celebrating its 90th anniversary earlier this month, CMLL is recognized as the premier lucha libre organization in the world. Introducing lucha libre to Mexico on September 21, 1933, CMLL, originally known as EMLL, is a sports and cultural institution, with the famous Arena Mexico hosting some of Mexico's most iconic matches and becoming the unrivaled leader in lucha libre. Recognized for its rich tradition and celebrated for its unmatched excellence, CMLL is synonymous with lucha libre in Mexico and around the world.
Founded January 13, 1972, New Japan Pro-Wrestling is the largest and longest-running professional wrestling promotion in Japan. Defining the term fighting spirit, NJPW is heralded as the King of Sports. Promoting marquee events, such as Wrestle Kingdom and the brilliant G1 CLIMAX tournament, NJPW is the gold standard. In 2009, NJPW and CMLL formed an alliance highlighted by the crossover of each roster as well as touring events. In 2019, NJPW established its US based subsidiary, New Japan Pro-Wrestling of America. NJPW is acknowledged for its growing footprint as a preeminent wrestling promotion around the world.
Major League Wrestling debuted June 15, 2002, presenting a variety of wrestling styles in its matches. MLW is recognized for featuring some of the sport's most storied wrestling families, today's top ranked wrestlers and the next generation of world class fighters. MLW programming is broadcast in 60+ countries worldwide, including MLW Fusion on beIN Sports in the U.S. and on Ayozat TV on SKY in the United Kingdom. MLW premium live events stream exclusively on FITE+.