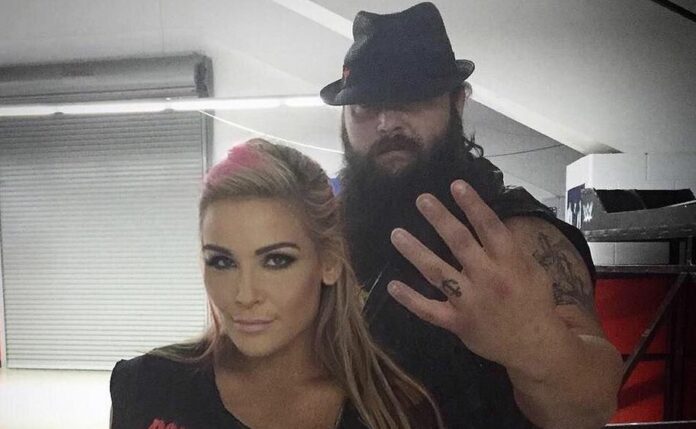 Natalya has continued to pay tribute to Bray Wyatt (Windham Rotunda), who died unexpectedly on August 24 from heart problems at the age of 36.
Natalya posted on Instagram earlier this week about finding an old photo album she hadn't seen in years. She included a few photos from the album, including her father, Jim Neidhart, uncle Davey Boy Smith, uncle Owen Hart, Brian Pillman Sr., Rick Rude, and Wyatt's father, Mike Rotunda, among others. These images are shown below.
on Wednesday, the third generation wrestler followed up with three photos of another third generation wrestler at the age of one month. Natalya, who is five years Wyatt's senior, included two photos of The Rotundas visiting The Neidharts to show off their new baby boy, who would one day become "one of a kind with a great mind and even better soul" and "one of the most creative, unique minds… one of the kindest… one of the good ones" in professional wrestling.
Natalya also included a photo of Wyatt dressed as Batman a few years later, as she, Harry Smith, and other family members prepared to go trick-or-treating on Halloween. Natalya stated that what she will remember most about Wyatt is how wonderful a person he was.
"Windham was only one month old in this picture when his parents brought him over to our house to show my mom and dad their new baby. They were so proud. Years later, we would go 'trick or treating' together in our neighborhood. Windham dressed up as Batman. It's surreal to think about Windham being gone but I'm so proud to have known him. More than what he contributed to the wrestling business (which was massive), he was a really great person. That's what I'll remember the most, @thewindhamrotunda," she wrote with the photos.
Both of Natalya's previously mentioned posts can be found below:
NOTE: Natalya's Instagram embeds have been disabled, but limited versions of the aforementioned posts are available below from her X/Twitter page.
— Nattie (@NatbyNature) September 5, 2023
— Nattie (@NatbyNature) September 5, 2023
— Nattie (@NatbyNature) September 5, 2023
Windham was only one month old in this picture when his parents brought him over to our house to proudly show my mom and dad their new baby. I was five years old. Years later, we would go "trick or treating" together in our neighborhood. Windham dressed up as Batman. It's surreal… pic.twitter.com/ZZZF8u6xst

— Nattie (@NatbyNature) September 6, 2023