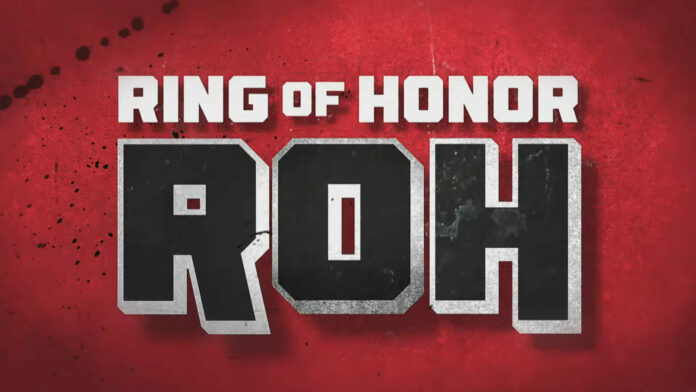 ROH TV Results – September 14, 2023
ROH World Title Match
Claudio Castagnoli (c) vs. Rocky Romero
Rocky Romero sends Claudio Castagnoli to the floor with a headscissors. Romero hits a pair of dives before Castagnoli cuts off a 3rd dive with an uppercut.
Castagnoli sends Romero into the top turnbuckle with a Gorilla press before dropping him with a big boot for a near fall.
Romero tried fighting back with a Rewind Kick but Castagnoli caught him in Giant Swing for 10 revolutions. Romero sent Castagnoli to the floor with another headscissors before sending Castagnoli over the vacant Collision announce table with a dive.
Romero hits a dropkick to Castagnoli while he was tied up in the ropes then Romero hits a tornado DDT for a near fall before Romero hits Rewind Kick before landing a 619 and a standing Sliced Bread for a near fall.
Romero went to the top rope but Castagnoli cuts him off with an uppercut. Romero knocks Castagnoli down and went for a crossbody but Castagnoli caught him and hit a tilt a whirl backbreaker for a near fall.
Castagnoli clubbered Romero in the corner before hitting a short arm lariat for a near fall then Romero caught Castagnoli with a couple of flash pins but Castagnoli cuts off a Tornado DDT then hits Swiss Death before landing another European Uppercut for the win.
Winner & Still ROH World Champion: Claudio Castagnoli (STILL CHAMPION!!!!)
6 Man Tag Team Match
The Infantry (Carlie Bravo & Shawn Dean) & Willie Mack vs. The Outrunners (Turbo Floyd & Truth Magnum) & Kevin Ku
The Infantry & Willie Mack held firm control with Shawn Dean hitting a dive onto The Outrunners & Kevin Ku. The Outrunners cuts him off while he was getting in the ring, allowing their team to take control of him.
The Outrunners & Ku took time to pose allowing Bravo to tag in and run wild then Mack tags in and traded elbows with Ku.
Ku lands a heavy kick but Mack came back with a pop up forearm and a Stunner before The Infantry hits the big boot/Russian leg sweep combo for the win.
Winners: The Infantry & Willie Mack
Backstage Lexy Nair is with Ethan Page. Page said that he's let his ego take control of his career chasing the money and losing his competitive edge. He doesn't know who he is anymore but he knows who he wants to be. He's here in Ring Of Honor to prove it to the people and to himself.
Mercedes Martinez vs. Zoey Lynn
Zoey Lynn made a short comeback that got cut off with a spinebuster then Mercedes Martinez had the win but pulls Lynn up to hit a forearm then locks in Brass City Stretch for the submission win.
Winner By Submission: Mercedes Martinez
Tag Team Match
6 Man Tag Team Champions Gates Of Agony (Kaun & Toa Liona) vs. Matt Brannigan & Cole Radrick
Kaun quickly hammers Matt Brannigan before menacing Cole Radrick off of the apron. Radrick tried running away but Toa Liona pounced him into the barricade then Gates Of Agony flapjacks Radrick into Brannigan for the win.
Winners: 6 Man Tag Team Champions Gates Of Agony
We got a video package recapping the history between Women's Champion Athena & Billie Starkz.
We go backstage where Lexy Nair in the with Starkz. Nair gave Starkz a to do list from Athena to be done before Athena came back in 2 weeks. Starkz initially balked but after Nair reminded her that Athena would take it out on the both of them Starkz decided to get it done.
Darius Martin vs. Christopher Daniels
Darius Martin & Christopher Daniels went back & forth before Daniels dumps Martin on his head with a back suplex. Daniels cuts off a Martin springboard before leg dropping him off of the ropes for a near fall. Daniels spun Martin around with a lariat. Daniels went for the uranage but Martin turned it into an armdrag.
Martin fired up but Daniels cut him off again by catching him in a Koji Clutch but Martin backdrops his way free of Angel's Wings and after a pinning predicament Martin held Daniels to get the win.
Winner: Darius Martin
Shane Taylor vs. Lee Johnson
Lee Johnson tried bouncing around to gain advantage on Shane Taylor before Taylor drops him with a punch. Taylor flung Johnson across the ring multiple times before sending him into the barricade.
Taylor hits an apron leg drop for a 1 count then levels Johnson with a lariat for a near fall before Johnson tried fighting back but Taylor headbutts him then a pull up uranage follows by a splash only got a two count.
Johnson came back by dropping Taylor to a knee after a pop up dropkick. Taylor hits a pendulum DDT for a near fall. Johnson went to the top rope before Lee Moriarty appears at ringside to distract him then Taylor hits Marcus Garvey Driver for the win.
Winner: Shane Taylor
After the match Taylor shook hands with Moriarty before they left together.
Willow Nightingale vs. Lady Frost
Willow Nightingale was in control until Lady Frost ducks an enzuigiri then Frost cartwheels off of Nightingale's back before hitting a big kick for a near fall. Frost kept control before running into a Pounce from Nightingale.
Nightingale nails Frost with short arm lariats before landing an enzuigiri for a near fall then Frost hits a hurricane kick before going for Frostbite for a near fall. Nightingale cuts off Frost with a spinebuster before hitting Babe With The Powerbomb for the win.
Winner: Willow Nightingale
Backstage Lexy Nair is with Shane Taylor & Lee Moriarty. Taylor said that he & Shane Taylor Promotions have carried Ring Of Honor for years and now it's time for him to start making history. He officially introduced Moriarty as the newest member of Shane Taylor Promotions.
Josh Woods vs. Dominic Garrini
Josh Woods & Dominic Garrini traded gutwrenches and wristlocks before Woods sends Garrini flying with suplexes before Woods hits Anarchist Suplex for the win.
Winner: Josh Woods
Ethan Page vs. Griff Garrison
Griff Garrison hits a big splash in the corner before Ethan Page hits a stalling suplex for a near fall. Garrison hits a big boot and a knee drop to take control. Page cuts off Garrison on the top rope and hit a powerslam for a near fall. Garrison slips out of Ego's Edge and hits a rolling elbow for a near fall before Page came back with an outside in cutter to score the win.
Winner: Ethan Page
Tag Team Match
The Workhorsemen (JD Drake & Anthony Henry) vs. The Boys (Brandon Tate & Brent Tate)
The Workhorsemen got a jump start on the match but The Boys were able to evade corner attacks and isolate Anthony Henry for a moment. JD Drake got a blind tag in before Henry baited Brandon Tate into a forearm. Drake hits a twisting Vader Bomb for a near fall.
Henry and Drake worked over Brandon for a while before Brent Tate eventually tags in then they teamed up to take down Henry but Drake proved to be too much to handle then a strike combination took out Brandon before a Henry double stomp took out Brent for the win.
Winners: The Workhorsemen
Backstage Lexy Nair is with Griff Garrison but he was quickly interrupted by Maria Kanellis-Bennett & Cole Karter. Bennett told Garrison that he had potential but needed to surround himself with like minded people.
AR Fox vs. Tony Nese
We get some quick back & forth exchange but it ends with Tony Nese almost scoring the win with a roll up with the tights for a near fall. Fox caught Nese with a series of kicks before mockingly jumping jacks.
Smart Mark Sterling tried to cut off Fox but Fox kept control and hit a skin the cat dropkick in the corner for a near fall.
Nese chokes Fox in the ropes before hooking him over the top rope then Sterling got a few shots in while Nese distracted the referee. Nese brought Fox to the top rope and hits a rolling uppercut.
Fox held onto the ropes on a hurricanrana attempt but Nese came back with the spinning heel kick for a near fall. Fox came back with a pendulum DDT in the ropes.
Fox fired up, hitting his walkthrough cutter for a near fall. Nese counters another cutter with a German suplex for a near fall. Nese went for the Running Nese but Fox moves & Fox got Nese to the top rope and hits Lo Mein Pain for the win.
Winner: AR Fox