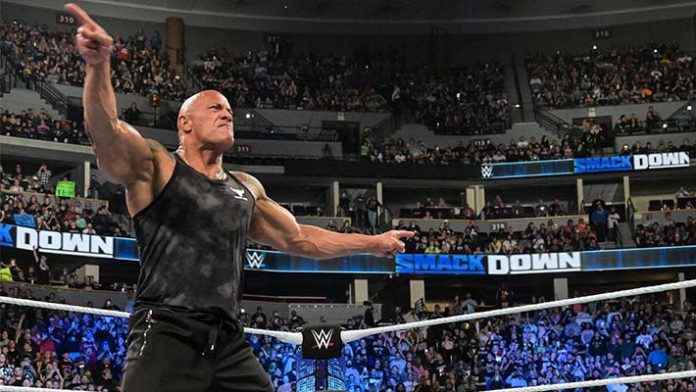 Dwayne "The Rock" Johnson made a surprise appearance in a segment with Pat McAfee and Austin Theory on Friday's edition of WWE SmackDown. Rock commented about his appearance over the weekend.
"I was – I'm still – completely blown away by this crowd reaction in Denver this past Friday night on SMACKDOWN. My appearance was a 💯 surprise to everyone and this crowd of 14,000 erupted with the roar of 100,000 strong.
Top 5 loudest crowd reaction of my career 🤯🥹🙏🏾
(which I was like 'holy shit' when I walked out 🤣)
I'm so grateful and humbled by this. I never take it for granted and "coming home" will always be sacred to me. Thank you my guy PatMac, the talented Austin Theory, @wwe family backstage, Team Rock behind the scenes – everyone who joined us to go ALL IN. But most importantly, thank you with all my love, gratitude and respect, to THE PEOPLE. Our connection is real. Electrifying.
~ people's champ ✊🏾"
I was – I'm still – completely blown away by this crowd reaction in Denver this past Friday night on SMACKDOWN.

My appearance was a 💯 surprise to everyone and this crowd of 14,000 erupted with the roar of 100,000 strong.

Top 5 loudest crowd reaction of my career 🤯🥹🙏🏾… pic.twitter.com/IYXcD0yCzN

— Dwayne Johnson (@TheRock) September 17, 2023