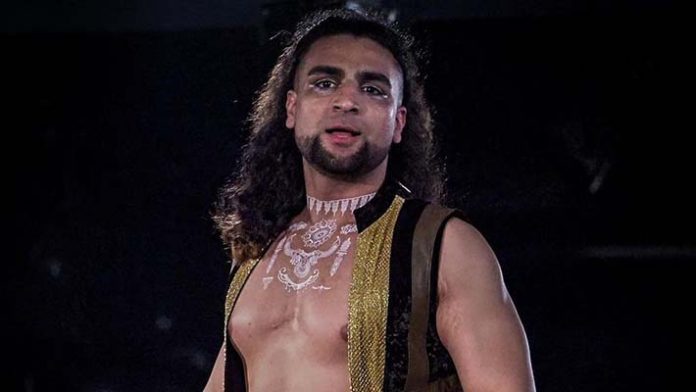 Baliyan Akki is one of the most outstanding wrestlers in the Japanese indie scene today. An all-around gifted wrestler with great technical acumen, mixed with good striking and high-flying moves, he shines in any scenario, even when it comes to a more comic-based style.
Akki loves to wrestle for Choco Pro Wrestling, an offshoot from Gatoh Move Pro Wrestling, founded by owner, Emi Sakura.
In response to the COVID-19 pandemic lockdowns in Japan, Gatoh Move began airing a YouTube exclusive show, ChocoPro, on March 29, 2020, with Minoru Suzuki wrestling against Baliyan Akki in the main event of the inaugural episode.
As the biggest wrestling weekend in British History falls upon us, many companies are coming over and performing either side of AEW's mammoth All In event at Wembley Stadium. Choco Pro is one of them.
PWMania.com's Lee Tarrier (@leeseedub) caught up with Akki to discuss Choco Pro's involvement over All In weekend, partnering up with the fantastic Pro Wrestling: EVE for amazing shows on Saturday August 26th and why fans would love this product.
You can check out the complete interview below:
How Choco Pro begun:
The pandemic happened in Japan and everything shut down I thought I would suffer because nobody could wrestle and I was in Japan. So, Sakura said 'I'm going to start a new company.' So, she created something new, something fresh, something to give hope. The tagline was 'Our dreams still do come true in this world.' Choco Pro never mentioned the pandemic once and we just created a series of shows to keep people entertained and happy. It was never depressing. Sakura put everything into this, using all money, paying us all in a time when nobody could get paid. They didn't mind if they would lose everything, they gave us hope. Then we were able to create a paywall and help fund the product and now we are past 300 shows and have done this for 3 years.
When audiences came back, they said, let's keep doing this and entertain the fans, keep a smile on their face. And here we are!
Partnering with Pro Wrestling: EVE over All In Weekend:
Dan Reid has been a friend of ours for a long time, he helped me especially when I was in the UK. The topic came up about how it would be to do a Choco Pro show in London during the big AEW weekend. The show sold out. 120, 130 tickets sold out in 20 minutes. Amazing. It blew us away, like genuinely blew us away. And the card hasn't even been announced yet.
So, then we have 2 shows, one in the evening, with about 9 tickets left. Which again, is amazing.
What to expect from Choco Pro x EVE:
It's light hearted, it's all about having fun. We want every fan to be focused on this unique action. Our audience, we want them to feel like they are in a first person video game. It's an experience more than just a wrestling show. We want you to feel something different through seeing something different.
Our matches contain mixed wrestling, there is no limit. He, She, They, Them can be tall, short, big or small, it doesn't matter. These matches will happen. They could happen in a ring, out the ring, they could use anything. This is very different.
It doesn't matter if you're a man or a woman. It doesn't matter if you are, inside or outside, you could be in a ring or the waiting room in a hospital. This is an intimate, amazing experience.
Personal career ambitions:
I just came back and from CMLL in Mexico, representing India and that felt different. That felt different because it for the first time since I left to go to Japan. I feel like now I want to do something and have a big say in what becomes of Indian wrestling and all that.
I don't know how that turns out to be but I haven't felt like this in a long time and it felt so nice. I think now I feel like I can be a behemoth myself and can make a behemoth of a wrestling scene in India. I feel like I want to be that behemoth. Yeah, that's how I feel about my career.
Popularity of wrestling in India:
I think people don't really understand what wrestling is in India. There is the chance for  big media investment and for someone from India to make it huge around the world. I don't know who it will be. I will try my best to be that and be as huge as any Bollywood or cricket.
If you become famous in India, you are huge and I think the big global companies will realise one of the biggest stars of the future in professional wrestling will come out of India.
When Choco Pro and EVE unite on Saturday, it will be a unique and memorable event for sure. Tickets for the event are now sold out.