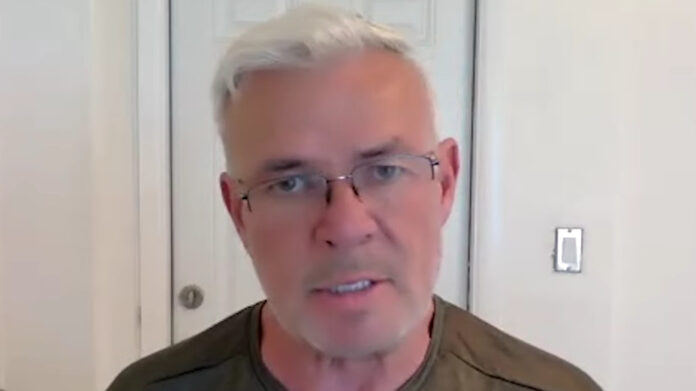 WWE Hall of Famer and former WCW President Eric Bischoff took to an episode of his Strictly Business podcast, where he talked about a number of topics including the importance of tournaments in pro wrestling and how it was his idea to come up with the Bound For Glory series in TNA Wrestling before leaving.
Bischoff said, "I was pivotal. That was probably my idea directly in coming up with the Bound for Glory series, which would be the weeks leading up to the TNA Bound for Glory pay-per-view. And it wasn't. I didn't come up with that probably until the last 2 or 3 years of my time, maybe two years in TNA. And it was an attempt to create a structure that people could follow along with. And use actual won-loss records. And create a real tournament where the wins and the losses and the ties, all of those things factored in and were absolutely legitimate. And my reason for wanting to do it. Was that? The structure, a tournament structure, the idea of it. It can really be effective. If you reverse engineer it effectively. So what you're really doing is telling stories that are focused on an end zone, in this case, bound for a glory series. And while it fits within the framework of a tournament structure that people understand because we've all followed them, March Madness and all that kind of stuff that's out there in our face every day. But the challenge was, 'How do we really keep track of the wins, the losses, the ties, tie-breakers, all that stuff so that it can't be picked apart?' But you're still telling the exact stories you wanted to tell. Going into it the way you would otherwise. And in fact, the tournament format actually enhanced our ability to do that because it required focus. It wasn't as easy to go, 'Hey, I got a better idea. Let's do this instead.' In the middle of creating an arc. So, it forced us to focus. It forced us to really work in detail backward. So that the action and the results all made sense to the viewer. And I really enjoyed doing that. I really, really enjoyed that entire process. I think it can be something that, if it is done well and again, it's all about the story's random matches. And because here's the downside, a tournament also gives you the ability to have absolutely zero focus and make up your mind, or make up your mind 20 minutes before the match happens. What you decide you want to do, I mean, it can be a disaster. Meaning that there's just no story, there's no arc, there's no anticipation, there's no reality, there's nothing. Right. It's just there. It's an excuse to have matches. But done properly and with great care and discipline, it can be a great tool for Tony."
You can check out the complete podcast below.