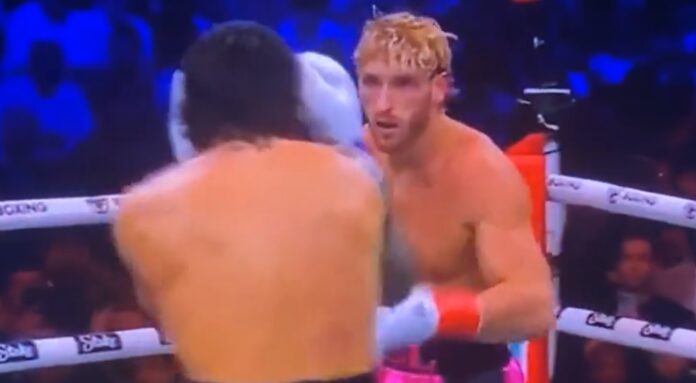 Logan Paul finally gets a mark in the "win" column of his boxing career.
Well, a win via Disqualification, that is.
The WWE Superstar defeated Dillon Danis in the co-main event of the Misfits Boxing: PRIME Card on Saturday in England on DAZN Boxing pay-per-view via DQ after the fight was stopped in the sixth round due to a ring-filling brawl that followed consistent antics from Danis, including fighting on the ground.
Paul also took a big swing at Danis while he was on the ground before several security members and the fight teams for Paul and Danis quickly filled the ring and the bout was called off.
Michael Buffer announced Logan Paul as the winner via DQ, noting that he was ahead on every judges scorecard leading up to the stoppage.
After the fight, Logan Paul was interviewed by Ariel Helwani in the ring while his brother, Jake Paul, stood by his side.
Logan turned his attention to WWE in the post-fight interview, cutting a promo on Rey Mysterio and challenging the WWE Hall of Fame legend for a shot at the United States Championship.
After that, he turned his attention to UFC legend Conor McGregor, who has worked jiu-jitsu with Danis for several of his UFC championship bouts, and attempted to gain some interest in luring him back to the boxing world for a fight.
Check out some photos of the Logan Paul vs. Dillon Danis brawl from the Misfits Boxing: PRIME Card from the DAZN Boxing pay-per-view event on Saturday night, October 14, 2023 via the tweets embedded below courtesy of the official Twitter (X) page of PWMania.com reporter Matt Boone (@MattBoone0709).
Well, #LoganPaul sure seemed as calm as ever during that backstage live interview with @arielhelwani ahead of his boxing match against #DillonDanis tonight in the co-main event of #ThePrimeCard. He also showed the cut from the mic-drop from Danis at the weigh-ins …#PRIMECARD pic.twitter.com/MMZsrdURa2

— Matt Boone (@MattBoone0709) October 14, 2023
Familiar faces to longtime #WWE fans, @Thecoachrules (Jonathan Coachman) & @Grishamfight (Todd Grisham) are two of the commentators for tonight's #MisfitsBoxing – #PRIMECARD feat. #LoganPaul vs. #DillonDanis & #KSI vs. #TommyFury on @DAZNBoxing #ThePrimeCard #WrestlingTwitter pic.twitter.com/2VhMNLPQtS

— Matt Boone (@MattBoone0709) October 14, 2023
It CAN'T be a coincidence they played Kanye West's "#Golddigger" between final rounds of #LoganPaul vs #DillonDanis, right?! LOL!

The commentary of Coach and Grisham and Helwani was BEYOND garbage. Almost as bad as the "fight."

TRASH ALL AROUND!#ThePrimeCard #PRIMECARD pic.twitter.com/JVdJheGfJs

— Matt Boone (@MattBoone0709) October 14, 2023
Winner via DQ – #LoganPaul. Michael Buffer goes out of his way to say Paul won every round on the judges cards before stoppage in sixth round due to brawl.

BTW — How did they get Michael Buffer and him never say "let's get ready to rumble?!"#ThePRIMECard #PRIMECARD pic.twitter.com/b7r7qdwyh0

— Matt Boone (@MattBoone0709) October 14, 2023
.#LoganPaul calls out #WWE U.S. Champion Rey Mysterio after win via DQ over #DillonDanis at #ThePRIMECard. He also challenges #UFC legend #ConorMcGregor to a fight.

What a train wreck top-to-bottom & main event hasn't even started.

Can John Fury can top the insanity we just saw

— Matt Boone (@MattBoone0709) October 14, 2023