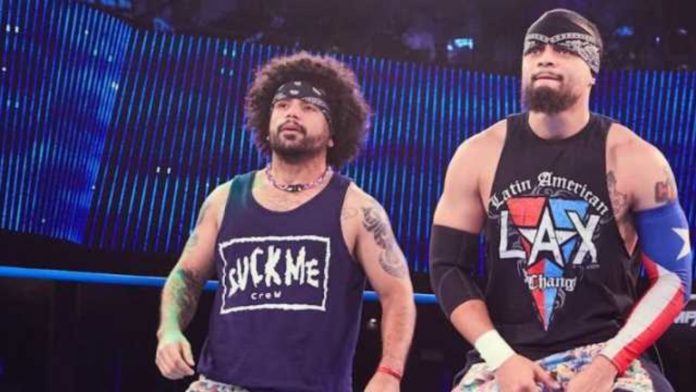 AEW star Mike Santana recently appeared on the In The Weeds podcast with Jeremy Lamber and talked about a number of topics including why he ultimately decided to become a singles wrestler.
Santana said, "In life, there come moments where you look back at everything and are like, 'This was cool and great accomplishments that we did, but sometimes you want more.' Sometimes, you don't want to be comfortable. I'm the type of person where comfortability makes me uncomfortable, and I like that. Wrestling, just like with any job, you want to progress and you want to get better and move up and be a bigger name and do this and that. For me, personally, I realized that it's about that time. For me. I'm happy with everything that we've done and with the run that we had. It was great. We got to accomplish a lot of things together. We came up together, we helped each other get through a lot of things. Sometimes, things happen for a reason. There is a lot of personal stuff, but that's between him and me and for him and me to deal with. We decided to be professionals and we have a job. We decided to do that job. Did I initially want to do it? No, I didn't feel like there was a need for me, personally, bu we're pros and we have a job, so let's do our job and make the best of it and move forward."
Santana also talked about feeling distant from Ortiz since before his injury in 2022.
"Yeah, but I was feeling like that way before the injury. I was just not in a good place mentally with anything. When you have nothing but time to think and sit with yourself, you have to put a lot of shit in perspective and have to make a lot of decisions. For me, personally, everything happened the way it needed to. I look at this injury and everything, from my dad passing away, from the struggles at work, everything happened the way it needed to happen to get me to where I am today. Today, I am the best version of myself that I've ever been. It is what it is. Sometimes you have to go through the shit to get to the light. The injury itself, it did a lot to me. It was definitely one of the things that it opened my eyes to. We all have a window in this business. I'm 32 years old. I'm not old, but I ain't exactly that young either. I want to make the absolute most of my time and truly make the best of it. I want to be able to look back and be like, 'I did that' and be content and happy with what I've done. At the end of the day, my main thing now is growing and having fun doing it. I always said, just like with any job and profession, if you ain't working to move up or get promoted or be bigger than what you are, what the hell is the point, what are you doing? Not everybody has that same mindset, and that's okay. I'm just speaking of myself."
You can check out the complete podcast in the video below.