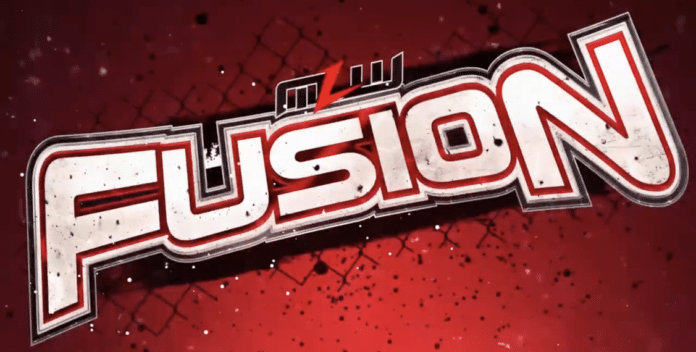 MLW Fusion Results – August 24, 2023
Triple Threat Tag Team Match
2nd Gear Crew (1 Called Manders & Matthew Justice) vs. The Calling (Delirious & Talon) vs. Samoan Swat Team (Juicy Finau & Lance Anoa'i) 
Delirious & The other Calling members exited the ring and headed back then Samoan Swat Team went to ringside and then 2nd Gear Crew dove onto them.
Once the wrestlers were back in the ring The Calling returns then Delirious & Tolan attacks both 2nd Gear Crew & Samoan Swat Tea. Talon went to the top rope and then hits a senton.
Samoan Swat Team battle back then Lance Anoa'i hits a dive onto 2nd Gear Crew on the floor. Juicy Finau hits an inverted piledriver on the henchmen. Finau follows up with a Polynesian Plunge. Delirious returned to break up the pin as we go to a break.
After the break 1 Called Manders put the henchmen on his shoulders while Matthew Justice was on the top rope but Delirious broke up whatever 2nd Gear Crew had planned.
Manders came back and powerslams Delirious from the middle rope and then Justice follows up with a top rope splash to get the win.
Winners: 2nd Gear Crew
Footage aired of last week's segments involving Featherweight Champion Delmi Exo & Becca. A breaking news graphic was used to announce that Exo would be sidelined for 2 or 3 weeks.
A vignette aired for Nolo Kitano and included a graphic that he will journey to MLW.
A video package recaps Davey Boy Smith Jr winning the 2023 Opera Cup.
Joe Dombrowski said it was time for the major announcement & he said there have been rumors for weeks about what Court Bauer and his team had been working on. A video played and listed the MLW & NJPW logos next to one another. They were followed by the MLW Fury Road graphic.
Fatal 5 Way Match
Willie Mack vs. Ken Broadway vs. Love Doug vs. Nolo Kitano vs. O'Shay Edwards
Love Doug threw pedals at one his opponent to start then Willie Mack hits an early flip dive onto his opponents heading into a break.
After the break Nolo Kitano has run of offense on Ken Broadway then Doug bulldogs Kitano. Doug returns and acts like he was proposing to Broadway but he kicks him then Edwards returns to the ring and clotheslines both men.
Edwards powers up Broadway and held him up before completing a vertical suplex. Kitano and Broadway worked together to clear Edwards from the ring. Broadway rolled up Kitano for a two count. Kitano wasn't pleased.
Mack & Doug ends up in the ring together. Edwards shoves Mack into Doug & he tumbled to ringside. Mack ends up at ringside and was run into the barricade by 2 opponents.
In the ring, Edwards hoisted up Broadway and then ran him into Doug & Kitano in opposite corners before powerslamming him. Kitano & Doug team up on Edwards and seated him on the top turnbuckle.
Kitano & Doug couldn't power up Edwards for a double superplex but Mack returns and turns it into a tower of doom. Broadway caught Mack with a kick in the corner. Broadway put Kitano down but Mack splashed Broadway to get the win.
Winner: Willie Mack
After the match Mack took the mic and told the crowd that it's the Summer of Mack and no one will stop it.
Middleweight Champion & World Tag Team Champion Akira made his entrance for the main event. He set up a chair in the ring took a seat and then told the crowd You were cheering for me. He held up the mic and let them react. He said they were cheering for their Middleweight Champion.
Akira said they were in ECW Arena the home of hardcore. Akira said his body is hardcore with scars all over it. Akira spoke to National Openweight Champion Jacob Fatu. He said he's bled for everything he has while Fatu was given everything because of who he was born to be. Akira said he put his knee to the back of Fatu's head and wasn't afraid to do it again. Akira told Fatu to come get some.
Fatu made his entrance and had a mic. Fatu asked Akira what gives him the right. He asked if he thinks he's over because he has a title and is getting a push. Fatu said he can really fight and dog walk Akira's bitch ass.
Fatu was about to enter the ring when he was grab from behind by security guards. Akira went up top and held his chair out while crashing onto Fatu at ringside. Fatu fought off security and fought Akira. Fatu threw a chair at Akira and then threw him in the ring to start the match.
Champion vs. Champion Match 
National Openweight Champion Jacob Fatu vs. Middleweight Champion & World Tag Team Champion Akira
Jacob Fatu went for an Alley Oop Samoan Drop but Akira hooked him into a pin for a two count. Fatu came back with a superkick.
The Calling's gas mask henchmen ran in. Fatu took one out and then hits Alley Oop Samoan Drop on the other & the ref calls for the bell.
Winner By DQ: National Openweight Champion Jacob Fatu
After the match Fatu performed a suicide dive on Akira at ringside. World Tag Team Champion Rickey Shane Page came out and hits Fatu with a baseball bat wrap in barbwire. Page puts the barbwire bat in front of Fatu's face and then ran him into the ring post. Striker said The Calling seem to be chasing the high of violence.
Following replays Fatu was still down on the floor. Dombrowski speculated about how one of the barbs may have gotten in Fatu's eye then said he didn't want to speculate with Fatu still down on the floor to close out this week's Fusion.
Fury Road Card (Sept 3rd)
MLW World Title Match
Alex Kane (c) vs. Willie Mack
No Holds Barred Kiss My Foot Match
Matt Cardona vs. Mance Warner
Featherweight Title #1 Contenders Match
Maki Itoh vs. Becca
Tracy Williams vs. Ichiban
National Openweight Title Mass Of Destruction Match
Jacob Fatu (c) vs. World Tag Team Champion Ricky Shane Page
Tony Deppen vs. Kushida