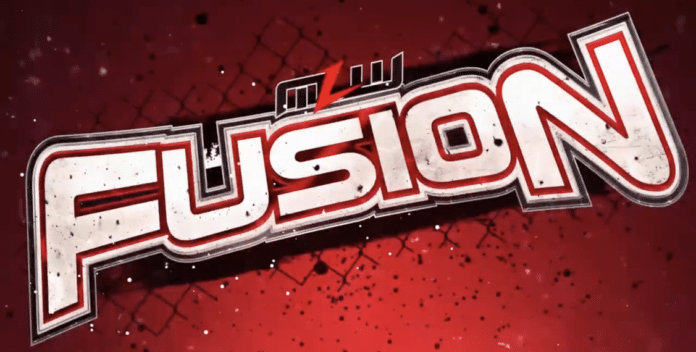 MLW Fusion Results – October 26, 2023
Kicking off this week's Fusion with Jesus Rodriguez introduces Salina De La Renta on the entrance stage then she gets the mic and she welcomes us to her show. She puts herself over and then gets cut off by Ichiban & his translator. Ichiban's mouthpiece wants a Middleweight Title shot for him against Rocky Romero but La Renta declines his offer and instead says he'll wrestle Jesus Rodriguez right now.
Jesus Rodriguez vs. Ichiban
Ichiban with a quick dropkick then he avoids a suplex and kicks Jesus Rodriguez before Salina De La Renta fails to powder the eyes of Ichiban but that does allow Rodriguez to land some strikes and take over then a suplex from Rodriguez then a rest hold.
Kick from Rodriguez then he runs into a back elbow but hits Polish Hammer to cut off Ichiban and prevent him from building momentum then a cheap shot from La Renta but Rodriguez takes too long following up and Ichiban drop toe holds him into the corner.
Kick from Ichiban then a flying chop and a Stunner then a handspring back elbow from Ichiban then a dropkick. Rodriguez counters an Ichi Bankai with a uranage then a superkick all for a 2 count.
Rodriguez eats canvas trying a 2nd rope moonsault then Ichiban hits an wheelbarrow bulldog follow by Ichi Bankai for the win.
Winner: Ichiban
After the match Middleweight Champion Rocky Romero & Featherweight Champion Janai Kai run down and attacks Ichiban while Rodriguez starts fishing under the ring for something and finds a chair. Romero gets the chair and they set it up in the ring then Romero hits a suplex onto the chair.
Brief recap of Rocky Romero winning the Middleweight Title from Akira at Slaughterhouse.
Salina De La Renta talks again in the back but she's interrupted by Bomaye Fight Club while trying to announce some Fightland matches.
CMLL World Historic Welterweight Title Match*
Rocky Romero (c) vs. Volador Jr
Volador Jr hits a dropkick before the bell then follows up with a suicide dive then back in the ring Rocky Romero with some corner clothesline then a backslide then Volador slides out of the ring but Romero dives onto him before Running Shiranui from Romero gets a 2 count.
Volador tries a flying nothing and eats a powerbomb then Romero with Sacrifice armbreaker before we get a superkick and backstabber from Volador then Romero hits a Code Red before we get some fighting on the top rope leads to Volador in the tree of woe then a double stomp from Romero.
Volador with a dive but then Romero whips him over the barricade then Romero with a hurricanrana on the floor that sends Volador to the ring post. Romero tries a Sliced Rocky but gets posted by Volador then we see them trading strikes in the ring for a bit.
Powerbomb from Volador gets a 2 count before Romero hits a belly 2 back piledriver but can't keep Volador down then they trade German suplexes for a bit then Romero throws Volador into the corner.
On the floor Rocky gets sent into the crowd then Volador suplexes on the floor then a springboard splash from Volador back in the ring then both men up top and Romero hits an avalanche hurricanrana.
Go 2 Sleep from Romero before Volador hits a superkick and they trade Canadian Destroyers but Romero has to put a foot on the rope to avoid a pin.
Back up top Rocky with a Diablo Armbar off the top rope then transitions to a triangle choke as Volador tries to powerbomb him but Romero switches back to the Diablo Armbar for the submission win.
Winner & Still CMLL World Historic Welterweight Champion: Rocky Romero (STILL CHAMPION!!!!)
We get a recap of the 2nd Gear Crew winning the Chamber Of Horrors Match at Slaughterhouse plus Janai Kai winning the Featherweight Title.
In the back Salina De La Renta complains at the cameraman then introduces Janai Kai. Kai calls herself the Kick Demon. La Renta promises there are more surprises still to come.
We get some highlights for Janai Kai.
Salina De La Renta is on the phone in the back then Delmi Exo comes up and they traded barbs before La Renta walks off and finds Mr. Saint Laurent. MSL hands her a folder of blackmail material in exchange for that MSL gets to the be promoter of record for the upcoming one shot card in NYC and he gets a MLW World Title shot for one of his guys anywhere and any time he chooses. La Renta agrees and they exchange folders.
In the parking lot Mance Warner & 1 Called Manders drink beer and talk. They talk about the World Tag Team Titles Tables match next week then Salina walks up and calls Warner a goat f*cker then accuses him of breeding alpaca's as well. Warner doesn't know what an alpaca is but warns Salina that the last time she came after him he put down every man she brought. He invites her to hit him and when she tries Jacob Fatu grabs her arm and stops her then Fatu asks why she's so mad. They want to go to Mexico and talk about fighting and alcohol Fatu vs. Mistico is suggested and they drink together while Salina walks off.
Turns out Becca is banned from wrestling by her record label until she finishes an album.
Another reminder that Miyu Yamashita is coming to MLW.
Salina heads back to the entrance stage to talk more. She has an announcement for the MLW World Champion so here comes Alex Kane. Kane with some compliments to La Rena but they're not here to talk about that. He says the reality show La Renta finished filming must be called Hoe Island. La Renta counters that Kane is the hoe here and Mr. Thomas is his pimp. Kane asks what La Renta wants with him she makes his MLW World Title defense at Fightland against Jacob Fatu. Fatu & Kane go face to face as we cut away.
To close we get a Calling video, World Tag Team Champion & National Openweight Champion Rickey Shane Page says his calling is getting stronger his title reign will last forever and the end of the 2nd Gear Crew is near to close out Fusion.
*This match is from CMLL/NJPW Fantastica Mania show on June 30th