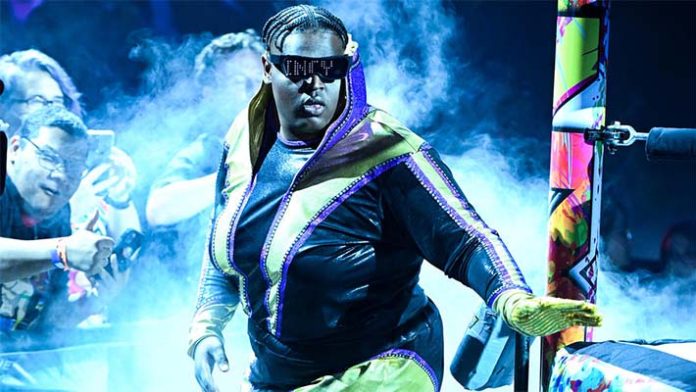 Former WWE star Quincy Elliott recently participated in an exclusive interview with PWMania.com's Scott Mitchell (@Scott44Mitchell). Elliott talked about their time in the WWE, learning at the WWE Performance Center, working in NXT, their release, what's next, and more.
You can check out the complete interview below:
What was it like to first sign with the WWE?
"I had a very unique tryout process. I tried out in 2021 as a part of the Summerslam tryouts. Initially, when I first tried it out I wasn't told yes yet. They created a whole extended tryout for me and a couple of others, where we went to Florida, and trained at the Performance Center, and we were a part of the Performance Center for a month to see if they wanted to sign us."
What was it like to learn at the WWE Performance Center under the coaches they have there?
"I've been a wrestling fan my entire life. My mom got me into wrestling, so being around the WWE Performance Center was a dream of mine. It's something I held dear and took seriously at the same time. I got to learn from people I grew up idolizing and learn from people with different mindsets and styles from all over the world. Being at the Performance Center definitely changed me, it changed me as a human being too for the better."
Were there any lessons that you learned there that you can take with you wherever you end up next?
"I learned to always bet on yourself. When I first got to the Performance Center, I was just a no-name indie wrestler that WWE saw something in. When I started training at the Performance Center, I realized that not that this journey's easy, but I made it happen, and if I wanted to become successful, I had to stand out. The Performance Center really taught me to believe in myself and have confidence."
How did the Super Diva come about?
"To be honest with you, it was a lot of work in progress. It was an idea that was created by me. I looked at the show and wrestling as a whole, and one thing I felt was that it was lacking larger-than-life personas and people not afraid to be different or look different than your typical pro wrestlers. When I created the Super Diva, I honestly didn't think it would be successful because of the time we live in, but as soon as people saw me there was a connection."
Did you have any inspirations for that character?
"Yes. I didn't really take inspiration from wrestling as much as people would think. Obviously, I had looks of Goldust and mannerisms like Goldust and Viscera. But honestly, a lot of that character came from pop culture and people like Nicki Minaj, Lil Uzi Vert, Prince, Michael Jackson, Lady Gaga, and Missy Elliot. These are all people who helped me craft this image into being. It could have been way more successful than it was, but I don't think that WWE truly understood the vision for it from the start."
How important was it to you to just try and stand out and be different?
"It was very important to me. When I first got there, people were not buying into it and just thinking it was a joke. I feel like that's kind of what it turned into, but to me, I would love to represent something that isn't on TV and something big and can be taken seriously. To me, I had a lot of weight on my shoulders, and I knew what I wanted from it. As a kid, if you would have told me I got to do that, I would have been mind blown."
What was it like to host Halloween Havoc alongside Shotzi, and defeat Xyon Quinn to earn that opportunity?
"To be honest, I was very injured in my match against Xyon. I got into a Mo-Ped crash, that pretty much gave me a big burn all over my body and lots of lacerations. That match was very painful for me, and nobody really knew what I was going through, but I knew the opportunity at hand, to host Halloween Havoc, and I made the most of it. That was one of the coolest experiences of my life. I just got to have fun, and do stuff that I wanted to do, and dress as different things, so that was a very cool night."
You also got to work with the likes of JD McDonagh and Grayson Waller, as well. What was it like to work with them and see them now taking off?
"It was fun working with them. Obviously, I didn't work them on live TV, it was more house shows. It wasn't anything that I wasn't used to. I did the indies, so it was just basically having fun, and creating things to entertain the crowds."
Do you have any favorite moments and matches of your career in WWE?
"My favorite moment in WWE, I didn't have too many but the ones I did have were fun, I had an NXT Level Up match where I came out on the Mo-Ped, and the crowd just erupted. From that night forward, creative, and everyone wanted to just put me on TV because that crowd reaction was the loudest from that night. I was genuinely shocked by that, people just really loved something new and fresh. Also, my debut entrance. I've never in my life just felt like I'm here and I made it and the world was watching me, and I get to do what I want to do and inspire people. Those were both very cool moments for me, for sure."
Did you make any good relationships at WWE while you were there or connections you have going forward? 
"A lot of people were rooting for me, and a lot of coaches were rooting for me. In particular, AJ Winkler is a coach there who I will always be thankful for. Matt Bloom was really pushing me to be the best version of myself. The creative team, the promo team, and everyone there were just very kind to me and let me express myself in ways that a lot of people don't get to. But, there are also things there that I take away in a negative way that I will learn from and grow from where maybe I could have been more confident or shown more."
Unfortunately, you were recently released from your WWE contract. What were your emotions when you got that call?
"To be honest with you, I sat through so many releases, it wasn't something that shocked me by any means. It's not something that necessarily hurts. It hurt because it was a dream of mine, but in the moment I felt like let me make moves and become an even bigger star than I was when I was in the WWE. I took it more as a shot on the chin, and I'm not the one who just dwells on things. I'm appreciative I got to show the world myself, but now I get to show the world myself with no rules, restrictions, or handcuffs. I now get to be the Quincy I always wanted to be."
Do you have any future goals or opponents you'd like to face?
"There's plenty of things I want to do. I won't say them all, because I want the world to be shocked. But, I want to do more than just wrestling. I'm a very creative individual, I like to create art, and you'll get to see me in everything I want to do, whether that's making films or music. As far as wrestling goes, there's a lot I'd like to do in the Indies. I feel like the indies are missing that spark that they had prior to WWE and AEW doing their thing. I feel like right now I'm in a position where people can use me, and I can try to get the most buzz that I can. Honestly, I'd love to perform overseas, that's something I never got to do."
Is there a message that you can leave your fans who are reading this?
"Don't be afraid to be different. Don't be afraid to be yourself. If someone is telling you otherwise, those aren't the people you want in your life. Stay focused, and realize you can do whatever you want to do, and any obstacle in front of you, you can overcome.
You can follow Quincy Elliott on his Instagram to stay up to do with everything The Super Diva has planned.