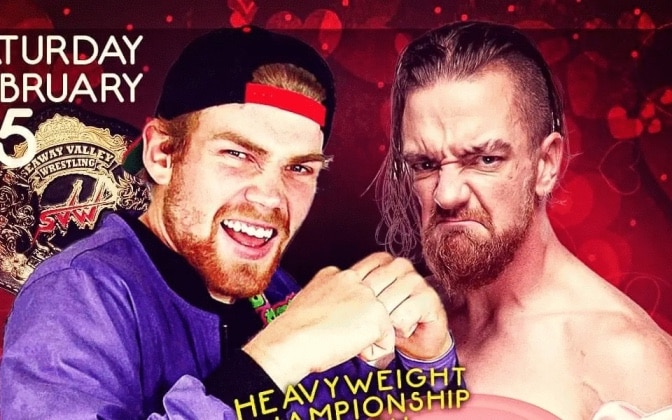 A new era in Seaway Valley Wrestling has begun as a brand new champion is crowned.
A capacity crowd was on hand at the Agora Centre in Cornwall, Ontario on February 25th as Seaway Valley Wrestling presented it's latest event Love Hurts 2.
The main event saw indy sensation "Hotstepper" Macrae Martin square off against a rising talent who recently made an appearance on AEW Dark "Moondog" Dylan Davis. The vacant Seaway Valley Wrestling Championship was up for grabs in this encounter. After a hard fought battle, Macrae Martin was victorious and became the new Seaway Valley Wrestling Champion.
Seaway Valley Wrestling Commissioner Al Allaire spoke with PWMania.com and had this to say about the new SVW Champion Macrae Martin:
"Macrae Martin has worked really hard and has improved leaps and bounds from his debut with SVW in 2019. Martin is a prime example of hard work paying off. He's a well deserving champion and for many years to come. It's only getting started for the Hotstepper."
In another championship match – Channing Decker successfully defended his Greektown Wrestling Championship against Impact Wrestling's Sheldon Jean.
In a scary moment, Nick Sullivan caught an elbow above his eye from a dive to the outside from Brad Alexxis during a fatal fourway match which opened a very bad cut that caused a huge amount of bleeding. Despite the size of the cut and blood loss, Sullivan is said to be ok.
Here are the full results for Seaway Valley Wrestling Love Hurts 2:
Main Event for the vacancy Seaway Valley Wrestling Championship – "Hotstepper" Macrae Martin defeated "Moondog" Dylan Davis to become the new Seaway Valley Wrestling
Greektown Wrestling Championship: Channing Decker (c) defeated Sheldon Jean to retain his title.
Brad Alexxis defeated Nick Sullivan, Deeno Benjamin and Dale Kilburn
Nikita defeated Dani Leo
Magnum McClaren defeated Tarik
Krystal Moon defeated Melanie Havok
Tabarnak De Team defeated For The Glory
Natural Born All Stars defeated Fear The Beard
Green Phantom defeated Zak Patterson