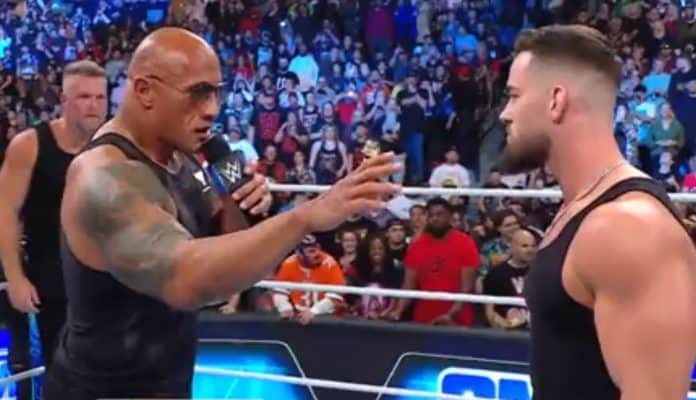 A couple of familiar faces to longtime WWE fans turned up in Denver, CO. on Friday night.
Pat McAfee and Dwayne "The Rock" Johnson kicked off this week's WWE Friday Night SmackDown on FOX show from the Ball Arena in Denver, CO. in a segment with Austin Theory.
Check out a recap of the segment and videos of it below.
We immediately hear the theme song for Pat McAfee and the former commentator makes his way to the ring as Michael Cole geeks out on commentary and Corey Graves bah-humbug's. McAfee gets on the mic and tells the Mile High City that he loves them.

He says he was in town covering Deion Sanders and the Colorado football scene and saw online that SmackDown was an hour down the road. He says there was no way he wasn't making the drive. As he continues talking, Austin Theory's theme hits and out he comes.

Theory gets in the ring dressed almost identical to McAfee. He tells him this isn't SmackDown, it's Austin Theory Live. He tells him he's gonna drop him in a couple seconds and then he can go back and talk about college football. McAfee says he ain't gonna do a damn thing and points out how he dresses like him.

McAfee tells Theory this isn't Austin Theory Live, it's The People's Show. He says we all know what that means.

"IF YA SMELL!!!!"

Out comes "The Brahma Bull," folks, to an enormous sustained roar from the Denver crowd. The Rock soaks up the moment and takes some time before heading down to the ring, stopping briefly to grab a fans phone and take a selfie with it. He gives it back, climbs the ropes and throws his mighty fist in the air, Rock-style.

His theme dies down and the insanely loud "Rocky! Rocky!" chants break out. The Rock soaks up that as well. A loud "Holy sh*t!" chant breaks out and the television sound goes dead silent because of it.

The Rock stands in front of Theory and stares him up and down. Theory asks Rock if he knows who's ring he's in. He tells Rock it's been a long time. Rock cuts him off, "Shut your b*tch ass up!" He takes his jacket off to reveal his own black tank-top and then he does his catchphrase. "Finally, The Rock has come back to Denver!"

Theory says finally the people get to see The Rock and Austin in the ring one last time, only not "Stone Cold" Steve Austin, but real Austin, the ass-kicker. The Rock continues but Theory cuts him off, "It doesn't matter what The Rock says!" The Rock says, "See it does actually matter what The Rock says." He says it matters more what the people say.

Rock tells Theory that "Stone Cold" Steve Austin is his boy and if he were here right now, he'd say, "If you wanna see Rock kick this jabroni's ass gimmie a hell yeah!" He tells Theory this side of the arena is gonna chant, "You are," and the other side is gonna chant "an assh*le!" It has to be edited off TV, so doesn't really play well for those at home. Funny stuff, nevertheless.

He stops them, but then switches and has each side of the arena say the opposite. It again gets heavily edited off the broadcast. Yikes. McAfee reminds Rock it's a two-hour show, as the chants go on forever. Rock says he knows it's a two-hour show, but The Rock and the people are having fun, baby! He tells Theory he's gonna kick his ass in three seconds.

Theory tries jumping The Rock but The Rock fights back and spinebusters him down. He pops up and looks at the crowd and they explode, knowing what's coming next. He doesn't have an elbow pad, but he does his arm gesture and then hits the ropes, slides and hits the most electrifying move in all of sports and entertainment, "The People's Elbow."

His theme hits again and he then tells McAfee to do it, too. His theme cuts off and McAfee does "The People's Elbow." Awesome opener to this week's show. Memorable stuff. If they don't have The Rock do something with LA Knight tonight, it'll be a let-down!
Check out videos below.
HEY! LET'S GOOOOOOOO!@PatMcAfeeShow is back on #SmackDown! pic.twitter.com/FlxP6U4EUQ

— WWE (@WWE) September 16, 2023
Of course @_Theory1 has to interrupt and make this all about himself 🤦‍♂️@PatMcAfeeShow #SmackDown pic.twitter.com/waGb7yMWbt

— WWE (@WWE) September 16, 2023
😱😱😱@TheRock is here!!!!!!!#SmackDown pic.twitter.com/f9L07kvw1Y

— WWE (@WWE) September 16, 2023
"Finally, @TheRock has come back to Denver!"

What a surreal moment 🤯#SmackDown pic.twitter.com/jFCNT44AQb

— WWE (@WWE) September 16, 2023
🗣️ HELL YEAH!@_Theory1 might have just signed his own death warrant 😳#SmackDown pic.twitter.com/BkXvuI9a4s

— WWE (@WWE) September 16, 2023