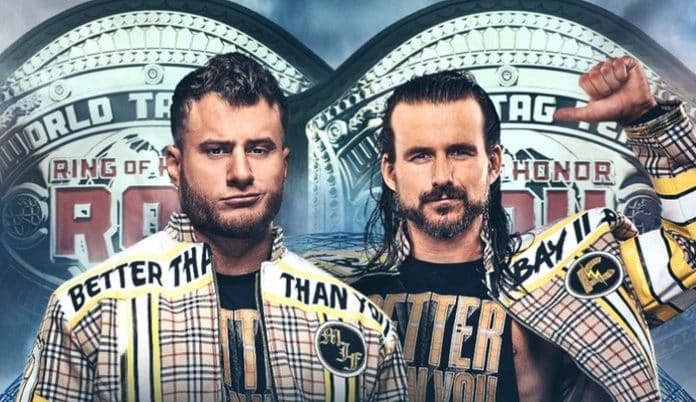 AND NEW!
The ROH World Tag-Team Championships changed hands in the opening bout of the "Zero Hour" pre-show at AEW ALL IN 2023 in Wembley Stadium in London, England on Sunday.
During the match, MJF and Adam Cole hit their Kangaroo Kick and Double Clothesline spots as promised to defeat the Aussie Open duo of Kyle Fletcher and Mark Davis to become the new ROH World Tag-Team Champions.
Check out coverage of the title change via the tweets embedded below.
They open & close the show as @AdamColePro & the #AEW World Champion @The_MJF look to capture #ROH World Tag Team Title gold right now!

Watch #AEWAllIn LONDON: ZERO HOUR LIVE on @YouTube

▶️ https://t.co/zqFgVE2xXJ pic.twitter.com/KdAOrEofW7

— All Elite Wrestling (@AEW) August 27, 2023
Double Clothesline in-front of 80,000+ fans in @wembleystadium?!

Watch #AEWAllIn LONDON: ZERO HOUR LIVE on @YouTube
▶️ https://t.co/zqFgVE2xXJ@The_MJF | @AdamColePro | @DUNKZILLADavis | @kylefletcherpro pic.twitter.com/AS8c5J695x

— All Elite Wrestling (@AEW) August 27, 2023
KANGAROO KICK LIVE in @wembleystadium!

Watch #AEWAllIn LONDON: ZERO HOUR LIVE on @YouTube
▶️ https://t.co/zqFgVE2xXJ@The_MJF | @AdamColePro | @DUNKZILLADavis | @kylefletcherpro pic.twitter.com/P5DasVkmfM

— All Elite Wrestling (@AEW) August 27, 2023
#ANDNEW #ROH World Tag Team CHampions @AdamColePro & #AEW World Champion @The_MJF

Watch #AEWAllIn LONDON: ZERO HOUR LIVE on @YouTube
▶️ https://t.co/zqFgVE2xXJ@The_MJF | @AdamColePro pic.twitter.com/AWfFkzCGAb

— All Elite Wrestling (@AEW) August 27, 2023
#ANDNEW #ROH World Tag Team CHampions @AdamColePro & #AEW World Champion @The_MJF

Watch #AEWAllIn LONDON: ZERO HOUR LIVE on @YouTube
▶️ https://t.co/zqFgVE2xXJ@The_MJF | @AdamColePro pic.twitter.com/1aE7dMppHE

— All Elite Wrestling (@AEW) August 27, 2023